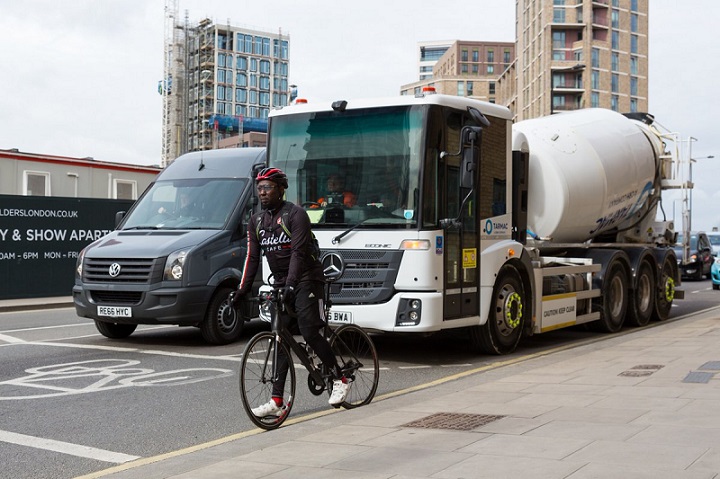 TfL has launched the final public consultation on an initiative to remove the 'most dangerous' heavy goods vehicles (HGVs) from the Capital's roads.
First announced in 2016, the Direct Vision Standard will be the 'first initiative of its kind in the world' to categorise HGVs depending on the level of a driver's direct vision from the cab.
The scheme is due to be introduced in 2020 as part of efforts to improve vehicle safety and increase visibility of vulnerable road users.
Under the plans, HGVs will be given a rating between 'zero-star' (lowest) and 'five-star' (highest), with only those vehicles rated 'three-star' and above – or which have comprehensive safety systems – able to operate in London from 2024.
Operators will have to apply for a permit via an online application portal on TfL's website, a process which is set to begin in October 2019.
---
The timeline for Direct Vision Standard:
October 2019: The first permits will be issued. Trucks rated 0* will need to upgrade to a safe system in order to get a permit
2020: Enforcement begins
2024: The minimum Direct Vision Standard star rating increases from one to three star, or a 'progressive safe system'
---
TfL is now inviting people to have their say on the final scheme proposals, with a particular focus on the HGV safety permit processes. The consultation invites people to comment on:

The process for obtaining a vehicle's direct vision star rating

The safe system requirements

The permit application and administration process

The enforcement and appeals process



Will Norman, London's Walking and Cycling Commissioner, said: "London will be the first city in the world to take such bold action to remove the most unsafe lorries from our streets.
"We are not prepared to stand by and let dangerous lorries continue to cause further heartbreak and tragedy on London's roads.
"We are doing everything we can to make our roads safer. Improving HGV safety standards will dramatically reduce danger for both cyclists and pedestrians.
"Taking action against dangerous lorries will help a lot more Londoners feel safe cycling as part of their everyday routine, improving their health, and helping tackle air pollution across our city."
The consultation – which can be accessed via the TfL website – is open until 18 February.
---