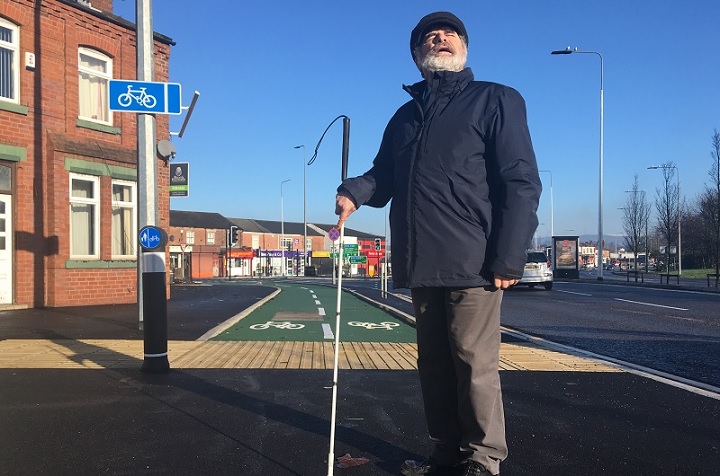 'Mini-Holland' cycle lane schemes, which operate in three London boroughs, have created 'real distress' for blind and disabled people, a charity has said.
Funded by Transport for London, the 'Mini-Holland' schemes have been introduced in Enfield, Kingston and Waltham Forest and incorporate various road design features, including segregated cycle lanes at junctions, to make cycling feel safer and more convenient.
The National Federation of the Blind of the UK (NFBUK) says some Mini-Holland elements – such as the boarder bus stops being used in Enfield – create particular problems for those with a visual impairment.
Boarder bus stops are where the cycle track runs alongside the kerb – and bus passengers get on and off the bus via the track.
Sarah Gayton, NFBUK's shared space coordinator, says she is 'shocked' about the situation in Enfield.
Sarah Gayton said: "The shared space bus stop puts two very vulnerable groups – pedestrians and cyclists – in the same place at the same time.
"Anybody can see the design is flawed and inherently dangerous. The scheme is a disaster for blind people.
"It is difficult to see how this could have been approved as acceptable. It seems to me there has been no real consideration of the needs of blind or frail people."
Looking at the wider picture, the NFBUK says some councils are ignoring their legal obligations and designing road layouts that make towns less accessible to blind people.
Andrew Hodgson, NFBUK president, said: "We have visited several areas recently where planners have clearly not considered the needs of blind and disabled people.
"The mini-Holland cycle lane schemes funded by TfL have created real distress for blind and disabled people."
---