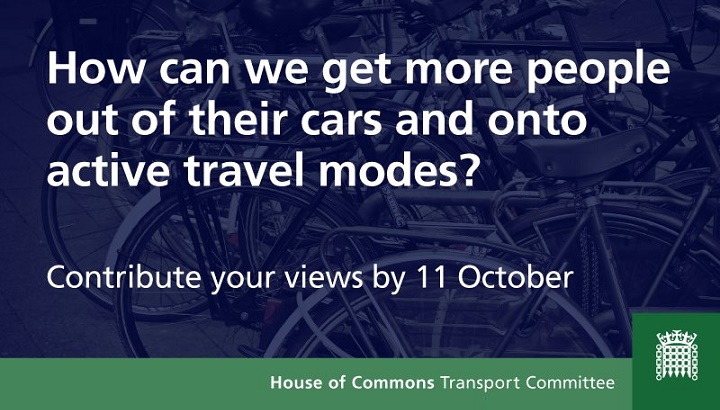 The Transport Committee has launched a new inquiry to consider ways of increasing active travel across England.
Launched on 9 August, the inquiry centres around a call for written evidence – including the benefits and risks of active travel, and the extent to which they are properly understood by the public and Government.
The Committee also wants to hear views on whether the current mix of initiatives to support active travel is appropriate, particularly with respect to safety.
Other topics to be covered by the enquiry include the effectiveness of the DfT in setting the strategic objectives for active travel and the balance of responsibilities between central Government and local bodies – and whether the current arrangements achieve an appropriate balance.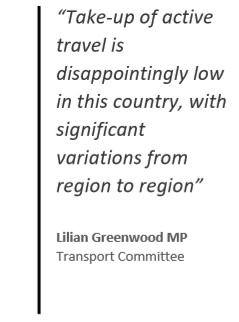 The Transport Committee says switching from motorised transport to walking and cycling has 'clear benefits for people's health and the environment'. However, it adds that the take-up of active travel 'varies widely across England, and is far behind other European countries such as the Netherlands and Denmark'.
The Committee says reasons for low take-up vary, but that this is 'often due to perceived safety risks, poor planning, quality of street design and supporting infrastructure'.
Lilian Greenwood MP, chair of the Transport Committee, said: "Walking and cycling are both extremely important modes of sustainable transport. The health benefits, as well as their contribution to cutting air pollution and congestion on the roads, are clear.
"However, take-up of active travel is disappointingly low in this country, with significant variations from region to region. Overall, we compare very unfavourably with many of our European neighbours. So why are we so slow to get active?
"Is local and central Government policy and funding appropriate? Is more needed than just building the infrastructure, such as cycle lanes? How can we promote behavioural change so that walking or cycling become the default for first and last mile journeys?
"Those are the key questions at the heart of our inquiry, which I hope it will bring renewed attention to this issue."
The deadline for written submissions is Thursday 11 October 2018.
---