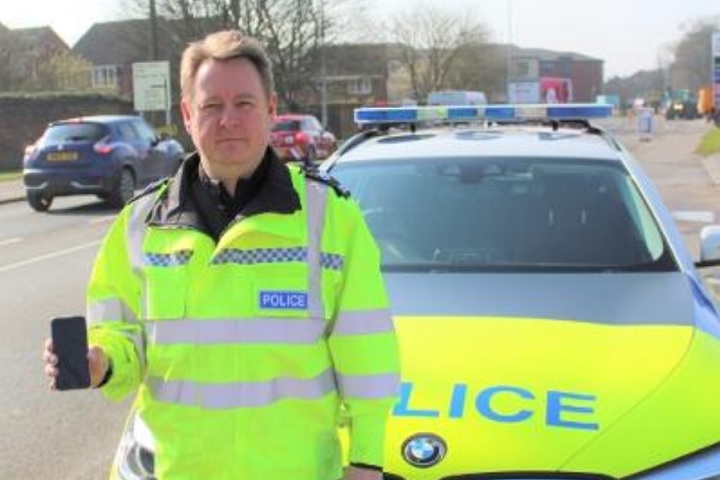 Police forces across the UK are stepping up efforts to catch drivers using a mobile phone this month, as part of a nationwide campaign.
The campaign is being coordinated by the National Police Chiefs' Council (NPCC) – with a warning that one moment of distraction can change 'innocent lives forever'.
CC Anthony Bangham, NPCC lead for Roads Policing, said: "We remain committed to reducing the harm caused by distracted driving. 
"Through the NPCC strategy, 'Policing our Roads Together', we coordinate two national campaigns each year to remind drivers of both the penalties for and the consequences of, using their mobile phone illegally. 
"We take appropriate action to prosecute offenders and will continue to do so.
"Our message remains simple: a moment's distraction can change innocent lives forever, don't take the risk."
From Hertfordshire to Wiltshire – forces crackdown on offenders
In support of the campaign, police forces are carrying out additional enforcement activities to detect offenders.
Hertfordshire Police is reminding the public not to use their mobile phones while driving – or face a minimum £200 fine and six points on their license.
Chief insp Jon Roche, head of roads policing for Bedfordshire, Cambridgeshire and Hertfordshire, said: "Using a handheld device while driving means taking your concentration and your eyes off the road. #
"That's incredibly dangerous and puts you and other road users at significant risk. Our message is don't do it. Wait until you reach your destination or make sure you park safely first."
The message is repeated by Wiltshire Police, who say the true cost of distraction can 'sadly be far more tragic than just points and a fine'.
Sgt Simon Drewett, Wiltshire Road Safety Unit, said: "It is really important that drivers do not become complacent about road safety and take unnecessary risks with not only their own lives, but the lives of other road users too.
"If you use a phone whilst driving (and that includes hands free), then your attention is diverted away from the road and what is happening around you.
"Whether using a phone handheld or hands free, your risk of crashing increases four-fold. Even glancing at a phone for 2.3 seconds whilst driving at 30mph, you miss 100ft of road. That is the equivalent to the length of a Boeing 737."
---