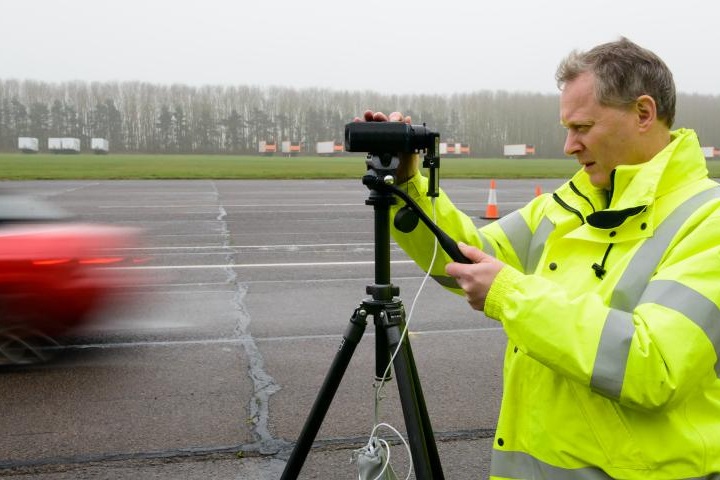 Road Safety Support has developed a new method for calibrating digital speedometers in police vehicles – enabling officers driving modern vehicles to carry out 'follow checks' on vehicles thought to be speeding.
Speedometers in all cars are built with a 'positive error', to ensure they always comply with UK and European regulations.
Traditionally, analogue speedometers were removed from police vehicles and adjusted to read an accurate or close to true speed, as part of the calibration process. 
But many modern vehicles have digital speedometers that cannot be adjusted without compromising the vehicle, posing a problem for police forces – because calibrated speedometers are essential in police cars responsible for carrying out follow checks on vehicles thought to be exceeding the speed limit. 
Steve Callaghan, calibration laboratory manager at Road Safety Support, said: "The work we have been doing in calibrating speedmeters for Home Office Type Approval in our accredited laboratory has been developed to deliver this answer to the police that has perplexed suppliers and fleet managers.  
"In developing this solution we have not only been able to calibrate the speedometer gauge, as has been done in the past; we calibrate the entire speed sensing and display in each vehicle."
The method has already been used to calibrate the digital speedometer of a South Wales Police patrol car.
Inspector Gareth Morgan, of the South Wales Police Western Roads Policing Unit, said: "In my opinion, the work carried out by RSS has transformed a vehicle that, although ideally suited to the RPU role, was not fit for purpose, due to the lack of a calibrated speedometer.
"Due to the new digital type displays, our traditional solution was not an option, and we had to consider other options.
"The RSS method is suitable for vehicles with either digital or analogue displays. It is far quicker than the previous solution and it does not require the display to be removed from the vehicle."
---