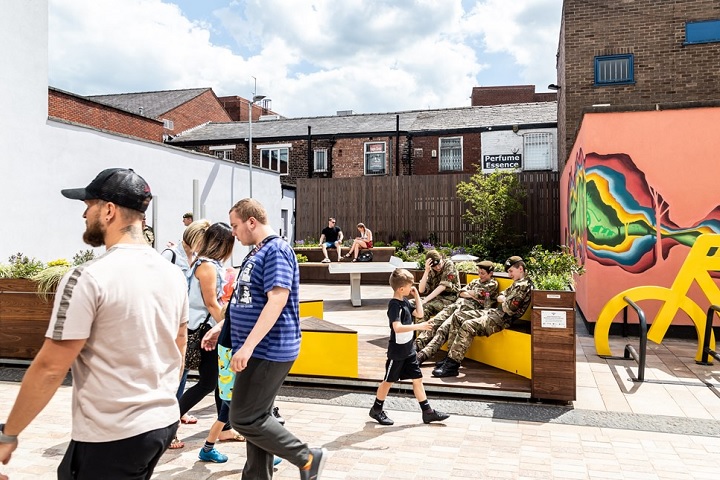 More parklets could be set to pop up across Manchester in the near future, following the 'overwhelming success' of a trial earlier this year.
A parklet is a small pavement extension, usually covering one or two car parking spaces, designed to add green open space to dense urban environments.
They provide space for people to sit, relax and enjoy the area around them – with other benefits including making streets more pleasant for walking and cycling.
Their popularity in the UK is increasing, since they were first introduced in Hackney in 2015.
In June, Transport for Greater Manchester (TfGM) trialled its first parklet in Stockport, with features including seating, planting and a table tennis table – as well as parking for 12 bikes.
TfGM has closely monitored the parklet and has undertaken a range of surveys and interviews with users to understand the effect it has had on visitors to the area, local businesses and the area itself.
Nearly all respondents (98%) felt the parklet improved the street, while 95% thought more should be installed across Greater Manchester.
When asked to describe the parklet, the most common descriptions were "modern", "clean", "pleasant" and "safe".
Cllr David Meller, cabinet member for economy and regeneration, said: "It's been brilliant to see the effect that the parklet has had on the Bridgefield Street area, as people have used it as a meeting point for friends, a place to socialise or simply somewhere pleasant to enjoy their lunch break.
"At a time when we're encouraging people to use their cars less, places like this not only provide the opportunity for travel on foot and by bike but make Stockport town centre a more attractive place for all to enjoy.
"We've had more than 200 public recommendations for potential sites, so we hope other areas will now follow Stockport's lead and more parklets will pop up in the near future."
---