A new simulator study has found that in-car infotainment systems can impair driving performance to potentially dangerous levels.
The study, commissioned by IAM RoadSmart and undertaken by TRL, found the systems – designed to improve road safety – can impair reaction times more than alcohol and cannabis use. 
IAM RoadSmart says the findings raise 'serious concerns' about the development and use of the latest in-vehicle technology.
During the study, drivers completed a series of three drives on the same simulated test route to assess the level of impact of Android Auto and Apple CarPlay. 
On the first run, drivers did not interact with the system. On subsequent runs, drivers interacted with the system using voice control only and then using touch control only.  
When using voice only control, reaction times slowed by up to 36% – a figure which rose to 57% when participants used just the touch control.
On both tests, the Android Auto performed slightly better than Apple CarPlay.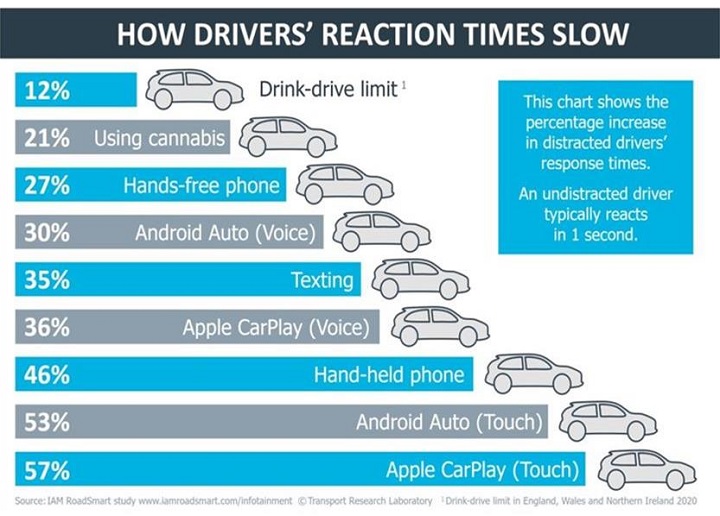 There was a deviation in lane position of half a metre – which increased when drivers were performing navigation tasks. 
IAM RoadSmart is now calling on industry and Government to openly test and approve all infotainment systems and develop consistent standards that will help minimise driver distraction.
Neil Greig, policy and research director, said: "Driver distraction is estimated to be a factor in around a third of all road collisions in Europe each year. 
"While previous research has indicated that Apple CarPlay and Android Auto perform better than more traditional buttons and controls, the results from this latest study raise some serious concerns about the development and use of the latest in-vehicle infotainment systems. 
"In our view anything that distracts a driver's eyes or mind from the road is bad news for road safety.
"We're now calling on industry and government to openly test and approve such systems and develop updated, consistent standards that genuinely help minimise driver distraction."
---