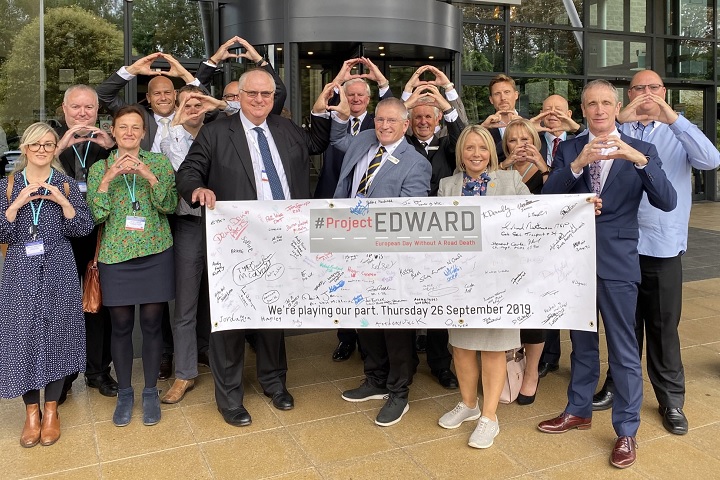 Road safety professionals are invited to join an online seminar being held next week to formulate a plan of action for Project EDWARD 2020.
Project EDWARD started life in 2016 as TISPOL's 'European Day Without A Road Death' and has proved a powerful and popular awareness-raiser for road safety. It has also highlighted the vital role of roads policing in terms of engagement and enforcement.
#ProjectEDWARD has consistently achieved excellent social media reach – in 2019 the campaign reached more than 30 million social media users on the day itself – as well as enthusiastic support from across the road safety and roads policing sectors.
For 2020, the organisers are setting out to 'move Project EDWARD up a gear', and part of this new drive is a name change to 'Every Day Without A Road Death'.
The seminar to discuss Project EDWARD 2020 will be held on Thursday 14 May, starting at 11am and lasting a maximum of 90 minutes. It is being coordinated by Supt Paul Keasey, the NPCC's head of National Roads Policing Operations & Intelligence and James Luckhurst, Project EDWARD lead and creator.
Anyone wishing to join the seminar should contact Virginia Ellis by email.
Paul Keasey said: "Our goal is to have a coordinated, collaborative and high-profile approach to a range of activities which will include weeks of action and results – starting with seven days of road safety engagement and advocacy in mid-September.
"The seminar on 14 May will provide the opportunity for sharing of ideas, questions and answers – to allow us to draw up a strong and exciting plan of action that can lead to something of real value for road safety."
Project EDWARD was the topic for the first RSGB Talk podcast of 2020, published in January,  which explored how the campaign has become a continent-wide phenomenon since its inception.
---