Authorities in Manchester have launched a new cycle training scheme designed to get whole families 'out and about' on two wheels.
Organised by Transport for Greater Manchester (TfGM), the free two-hour sessions will be led by a professional instructor, who will travel to the family's home and tailor each session to suit their needs.
Parents will be taught how to lead safe cycling trips on the road and how to ride 'protectively' with children, and children will be taught how they can travel safely on the roads – to ensure that everyone is comfortable riding with traffic.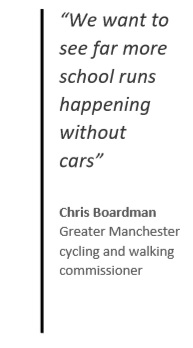 TfGM has been running cycle training for adults across the region for several years, with more than 10,000 training sessions helping more people to jump on their bikes more of the time.
Chris Boardman, Greater Manchester cycling and walking commissioner, says he is keen for as many people as possible – including families – to see cycling as a safe, convenient and easy way to travel.
In June he launched an 'innovative' proposal to create a city and region-wide cycling and walking network – made up of more than 1,000 miles of routes – with 75 miles of segregated bike lanes.
Chris Boardman said: "The Greater Manchester cycling and walking network will make local trips on foot or by bike much more attractive, easy and convenient for families and everyone else.
"In particular, we want to see far more school runs happening without cars.
"Until then, we need to give families more confidence to be able to venture out on their bikes. I hope families across the region take advantage of these tailored sessions."
---