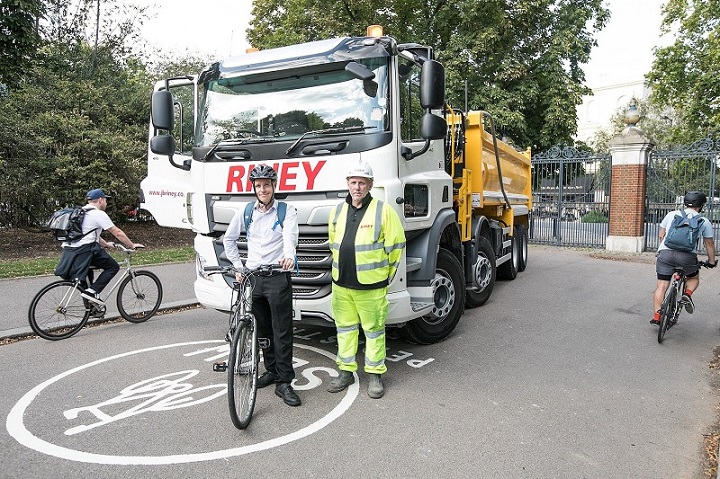 Businesses in east London are being encouraged to undertake safety training to help HGV drivers see the road from a cyclist's perspective.
The seven hour Safer Urban Driving course is being delivered by Cycle Confident on behalf of Tower Hamlets Council.
The training incorporates on-road cycling to enable HGV drivers to experience the road from a cyclist's point of view and understand the hazards faced when cycling near larger vehicles.
John Biggs, mayor of Tower Hamlets, said: "We want to work with businesses to ensure drivers are aware of hazards and risks on the road.
"It can be very daunting riding behind a heavy goods vehicle but if everyone pays attention and looks out for other road users, we can all stay safe. This training could be invaluable if it prevents another person dying or suffering a life-changing injury in a collision."
Tower Hamlets Council says one of its key priorities is to create an environment where people are safe and feel confident to travel.
David Edgar, cabinet member for the environment, said: "We're committed to making Tower Hamlets one of the easiest and safest places to cycle in London and this is a key priority contained in our draft Transport Strategy.
"This training is a practical way we will be working in partnership with businesses to make the borough's roads safer for everyone."
JB Riney 'leading by example'
One of the companies to complete the Safer Urban Driving course, highways contractor JB Riney, described it as insightful and beneficial.
The Bow-based company, which operates across London, has invested in a fleet of new high-visibility lorries with 360-degree cameras, cycle warning lights and audible turning alarms designed to prevent collisions.
The training and technology on its vehicles has helped JB Riney attain a gold standard in the Fleet Operator Recognition Scheme (FORS) – which helps improve safety and reduce pollution and congestion on roads.
Steve King, transport manager at JB Riney, said: "Our drivers found the courses insightful and beneficial to their roles.
"We take work-related road risk very seriously as we are acutely aware of the impact of our fleet operations on other road users, particularly more vulnerable cyclists and pedestrians.
"We'd encourage other businesses to take advantage of the training support to ensure their drivers stay safe on the roads."
---