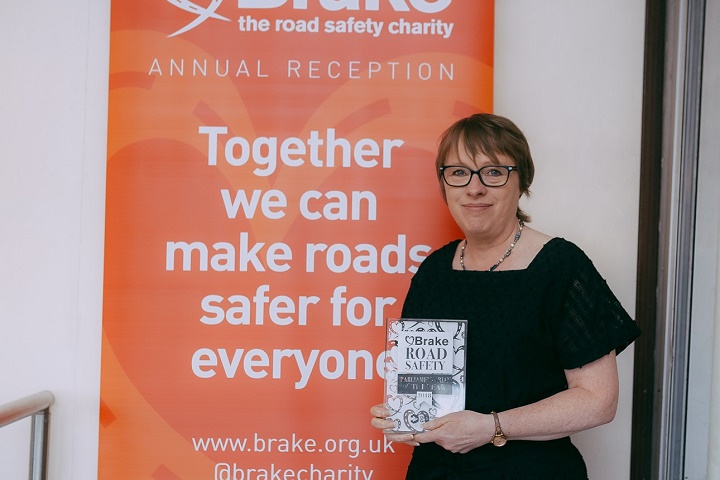 Maria Eagle has been named Parliamentarian of the Year by road safety charity Brake, recognising her efforts in the fight to ban older tyres on public service vehicles.
Ms Eagle, MP for Garston and Halewood, has been a key parliamentary voice behind the 'Tyred' campaign – set up by Frances Molloy, whose son Michael died in a coach crash caused by a 19-year-old tyre in 2012.
The campaign calls for a ban on tyres over the age of 10 years from buses and coaches – and has culminated in a Government consultation on the issue, launched last month.
The consultation, which is still ongoing, asks whether older tyres should be banned on larger commercial vehicles – and if any ban should be extended to taxis and private hire vehicles.
If supported, the potential ban could come into effect as soon as 2020.
Ms Eagle, MP for Garston and Halewood, was presented with the award at Brake's annual reception at the Houses of Parliament on 3 July.
She said: "I'm proud to receive this award in recognition of the work I've been doing in Parliament on behalf of my constituent Frances Molloy and her 'Tyred' campaign. 
"The Government's recent announcement that they are consulting on banning these dangerous old tyres from our roads completely is testament to our efforts so far and we hope that the law will be changed by the end of this year when the consultation closes. 
"I hope as many people as possible will respond to the consultation so that together, we can finally ban dangerous old tyres from our roads once and for all."
Recognising road safety in the UK
Brake's annual reception is organised to celebrate the work of those involved in road safety in the UK. The new road safety minister, Michael Ellis, delivered the keynote address.
Mary Williams OBE, chief executive of Brake, said: "It is an honour and privilege to be able to celebrate all those who campaign for safer roads in the UK, from our local volunteers to parliamentarians and ministers. 
"Road safety affects us all and through the hard work of our fantastic supporters I know that we can achieve our vision of zero road deaths and serious injuries.
"Particular mention must also go to our road safety Parliamentarian of the Year, Maria Eagle, whose award is thoroughly deserved for pushing the campaign to ban old tyres on large vehicles through parliament."
---