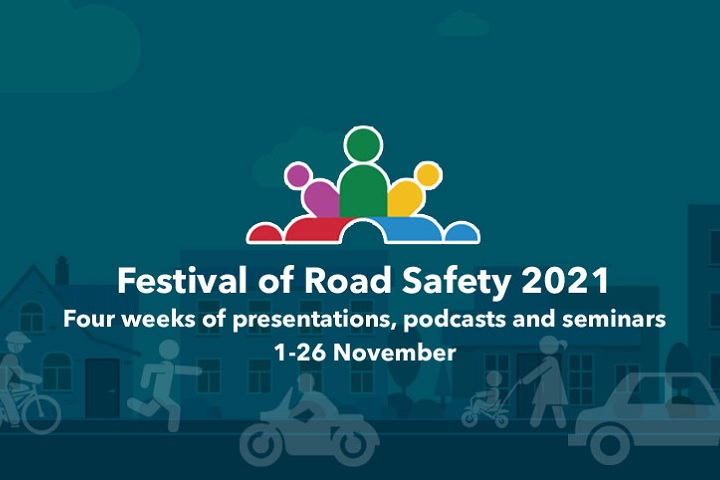 All 48 sessions which took place as part of the Festival of Road Safety are now available to watch via the event website – and will remain available on catch-up for the foreseeable future. 
The 2021 Festival, organised by Road Safety GB and sponsored by Jenoptik, took place between 1-26 November.
The content comprised a range of presentations, podcasts and workshops, and recordings of all sessions are available to watch via the Festival website or Road Safety GB YouTube channel.
The latest to be added is the SHARP 2025 roundtable, organised by TRL on behalf of the DfT, which focused on advancing motorcycle helmet safety information for riders.
Since 2007, the DfT's Safety Helmet Assessment and Rating Programme (SHARP) scheme has been providing riders with information about the relative safety of their helmets.
To ensure the SHARP scheme remains at the forefront of rider safety, the DfT has recognised the need to update the SHARP scheme with the latest advances in evidence-based research.
The roundtable provided attendees with an opportunity to learn about the evidence base behind the opportunities to update the SHARP test and rating protocols.
The Festival website has received more than 8,250 views since the event got underway on 1 November.
Edward Seaman, part of the Festival organising committee, said: "We are delighted with the 2021 Festival and the reception it has received. In particular, we would like to thank our participants for delivering such high-quality and interesting content.
"One of the benefits of hosting an online event is that the content will remain available to watch on catch-up for the foreseeable future.
"However, that said, we are looking forward to seeing everyone in person for the 2022 National Road Safety Conference in Harrogate."
If you have any comments about the 2021 Festival, please email Edward Seaman.
---