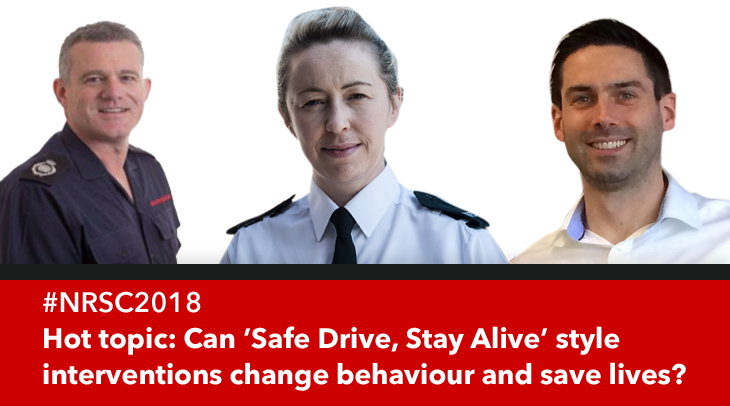 The effectiveness of 'Safe Drive, Stay Alive' style interventions will come under scrutiny at the 2018 National Road Safety Conference.
The 10th edition of the National Conference will take place at The Grand in Brighton on 27-28 November and is once again sponsored by Colas, insurethebox and Jenoptik Traffic Solutions. More than 200 people have already registered to attend.
Following on from the 2017 National Conference, when there was a passionate discussion about Safe Drive Stay Alive during Question Time, the 'hot topic' session will feature three 10-minute presentations, followed by questions from the audience, addressing the following question: 'Can Safe Drive, Stay Alive style interventions change behaviour and save lives?'.
One of the presentations will be delivered by Sean Bone-Knell, the National Fire Chiefs Council lead for road safety and director of operations at Kent Fire and Rescue Service.
Kent FRS operates the Kent and Medway Road Safety Experience centre, which is described at the 'first and only purpose-built road safety experience in the UK'.
Also presenting in the session is Dr Jami Blythe, motor patrols officer at Northumbria Police – a position she has held for the last 14 years.

Jami is involved in delivering Road Sense Common Sense (Road Sense), an emergency services multi-partner young driver road safety presentation.

She has recently completed a professional doctorate (DProf) in her chosen area of research – the role of empathy through storytelling in young driver road safety education.
The third presenter in the session is Dr Neale Kinnear, principal psychologist at the Transport Research Laboratory.

Dr Kinnear has authored numerous reviews of young and novice driver safety detailing the potential impact of Graduated Driver Licensing and reviewing the effectiveness of interventions aimed at improving young and novice driver safety.
In 2017, he led a review of the effectiveness of pre-driver interventions in Scotland and published a think piece challenging the current approach to young and novice driver safety.
2018 National Road Safety Conference
The 2018 National Road Safety Conference will set out to demonstrate how road safety professionals can combine the four 'E's' – education, enforcement and engineering, underpinned by evidence – to deliver casualty reduction improvements, despite challenging budgetary and resource constraints.
The 2018 National Conference will also once again include The Fringe which runs alongside the main programme, and on day two the ever popular Question Time session.
16 organisations have already registered to participate in the exhibition which runs alongside the conference and will be limited to around 20 exhibitors.
Click here to register to attend the conference or here to book a place at the exhibition.
For more information contact Sally Bartrum (delegate registration and exhibition) or Nick Rawlings (speakers and agenda) on 01379 650112.
---