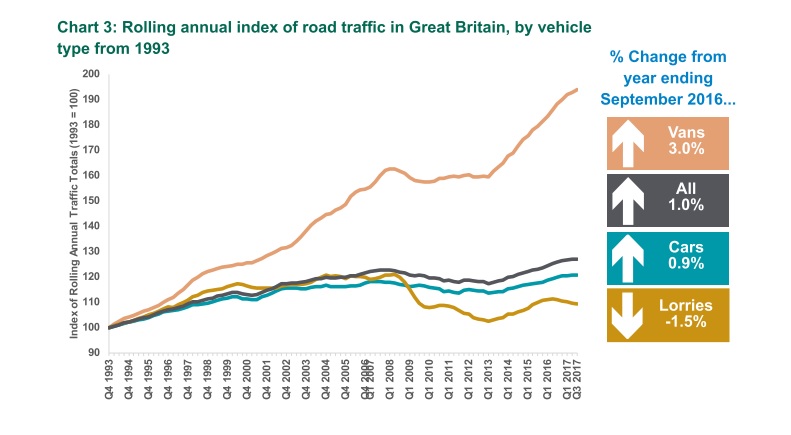 The number of vehicle miles travelled by vans on the roads of Great Britain rose to a record high in the 12 months ending September 2017, as a result of a 3% year-on-year increase.
Provisional figures published by the DfT today (30 Nov) show that 50.1bn miles were travelled by light commercial vehicles (LCVs) – the first time the figure has ever topped 50bn miles.
Looking at longer term trends, LCV traffic has risen by more than a fifth (21.7%) since the 12 months ending September 2012.
In total, there was 325.5bn vehicle miles travelled by all vehicle types during the year ending September 2017, a year-on-year rise of 1%.
The latest figures mean that rolling annual motor vehicle traffic has now increased to a record high for a ninth consecutive quarter.
Looking at other vehicle types, car and taxi traffic increased by 0.9% to a new high of 253.7bn miles for the year, while lorry traffic fell by 1.5% to 16.5bn miles.
A separate statistical release by the DfT also published today shows that the rise in traffic comes against a slight fall in the average delay on the strategic road network (SRN).
The average delay on the SRN for the year ending September 2017 was 8.9 seconds per vehicle per mile compared to free flow traffic, a year-on-year fall of 1% (or 0.1 seconds).
Average speed on the SRN also rose slightly – 59.5mph representing a 0.3% rise on the year ending September 2016.
However, the average delay on local 'A' roads increased by 0.8 seconds per vehicle per mile (1.7%).