A new app has been developed to help dyslexic drivers by reading information on road signs out aloud.
Road Signs Aloud, which is available on both iOS and Android devices, is the brainchild of Gene Fraser – a specialist dyslexia tutor at a  university in the West Midlands.
Ms Fraser says the app will also benefit anxious and elderly drivers, as well as those for whom English is their second language.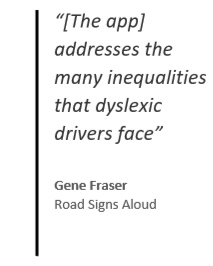 The app, which was developed by Dutch graphic designer Christian Boer to help combat his own dyslexia, uses the Dyslexie font – designed to mitigate some of the issues that dyslexics experience when reading.
The app has been entered into Voom 2018 – a Virgin Media Business competition open to anybody wanting to 'grow an existing business or bring their bright idea to life'.
With a share of £1m on offer, the ideas that receive the most votes from the public go through to the semi-final, where they will pitch to a panel of celebrity judges.
The winners will be the entrants whose live pitches are deemed by Richard Branson to be the most impressive.
At present, Road Signs Aloud has 564 votes – meaning it is 42nd position in the small business category. (Click here to vote)
Ms Fraser said: "My business idea addresses the many inequalities that dyslexic drivers face.
"Under the Equality Act 2010, Dyslexia is defined as a disability. So reasonable adjustments should be made when at work or in education, which they are, but what about outside of work or outside of the classroom?
"In my opinion and the opinions of the dyslexic people that I surveyed, it as though the Government thinks that dyslexia magically disappears, once these drivers are on the roads.
"By this I mean that there are numerous written traffic information and signs that need to be read when driving.
"People who have dyslexia struggle with reading, let alone when driving at 70mph on a UK road."
---