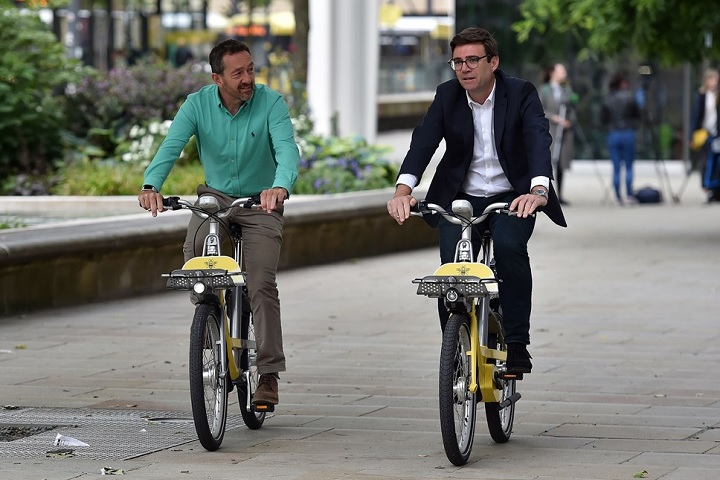 The Greater Manchester cycle hire scheme, set to be one of the largest schemes outside London, will begin a phased roll out this autumn.
Phase one of the Bee Network Cycle Hire Scheme will be operated by micromobility company Beryl and will consist of an initial fleet of 1,200 pedal bikes and 300 e-bikes. 
All the machines will carry Transport for Greater Manchester's yellow livery and signature bee, making them easily identifiable for people across Manchester, Trafford and Salford.
A closed trial of 30 Bee Network Bikes – docked near the University of Salford – will commence in early November.
Another 250 bikes will be added to the fleet around the University of Salford, Media City and along Oxford Road from 18 November for the general public to use.
By June 2022, total bike numbers will be increased to 1,200 pedal bikes and 300 e-bikes, and more than 200 docking stations across the zone. 
Docking stations will typically be between 300-500m apart, ensuring that up to 198,000 residents are never more than a five-minute walk from a Bee Network Bike.
The areas of Manchester, Salford and Trafford have been chosen because of their large resident population, high numbers of visitors, proximity to attractions and a high propensity to cycle among groups such as students.
The scheme is part of Greater Manchester's plan to provide a fully-integrated public transport system – the Bee Network – and become carbon neutral by 2038.
Transport for Greater Manchester says the 'ambitious' network will be one of the largest docked systems outside London and will give hundreds of thousands of people an 'affordable, convenient and quick way to get around'.
Andy Burnham, mayor of Greater Manchester, said: "We've worked hard with our supplier to ensure the Greater Manchester cycle hire scheme is affordable and accessible for residents to use.
"In fact, we have reduced the tariffs, making our pedal bikes brilliant value when compared to similar schemes in the country.
"The first Bee Network Bikes, with our signature Bee emblazoned on the side, are going on the ground later this year and we are very excited about our residents giving them a try."
---