A UK-based think tank and lobbying group has called on the Government to scrap the MOT test – describing it as 'outdated' and a 'rip off'.
In a new report, the Adam Smith Institute says the MOT test 'fails to target the main cause of vehicle accidents' – pointing to research which suggests mechanical failures account for just 2% of collisions in the UK.
The report adds that more than 65% of collisions are caused by driver behaviour – such as speeding, driving under the influence of alcohol or drugs, and not using a seatbelt – and as a result, Government policy should 'bring itself into the 21st century and focus on driver error'.
However, RAC says scrapping the MOT would be a 'huge backward step' and a 'recipe for disaster'.
The Adam Smith Institute paper suggests a number of reforms that the Government could pursue – all of which it says would save British motorists £250m a year.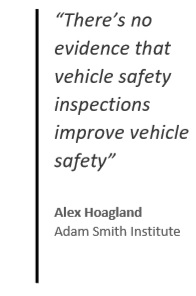 The reforms include:

Scrapping the MOT test altogether for all vehicles, except vehicles older than three years entering the UK from abroad

Reducing the rate of vehicle safety inspections from annually to a less frequent interval – such as every three or five years.

Increasing the 'testable age' of new vehicles from three years to five years (or more).

Separating the MOT into two tests: one less frequent test for vehicle safety inspection, the other testing only carbon emissions.

Focusing more resources on educational and/or publicity campaigns intended to reduce travelling without a seat belt, speeding and/or substance abuse while driving.

Dedicate additional resources to the development and testing of driverless vehicles to remove driver-related accident factors



Alex Hoagland, author of the paper, said: "The UK has required MOT testing for decades, in order to prevent crashes and fatalities from unreliable vehicles.
"Nowadays, vehicles are safer than ever, leading some governments to re-inspect these programmes. When these safety inspections were done away with in some US states, accident rates did not change.
"There's no evidence that vehicle safety inspections improve vehicle safety."
Sam Dumitriu, head of research at the Adam Smith Institute, said: "MOT tests are meant to prevent crashes and save lives, but they've never been put to the test themselves.
"New evidence from the US found that scrapping similar mandatory vehicle safety inspections had no impact on crash rates. Evidence, not gut feeling, should guide policy."
Nicholas Lyes, RAC head of roads policy, said:"Scrapping the MOT… would mean drivers would no longer have to do anything routinely to check their vehicles are safe which could lead to huge numbers of vehicles being driven that pose a danger to all road users.
"We can't imagine this would have any support from the UK public.
"More than a third of all cars and vans taken in for an MOT each year initially fail, so clearly the test is picking up some problems that need addressing that might otherwise make a vehicle unsafe.
"And while road accidents caused by mechanical failures might be low, how much of this is as a result of the MOT test existing?
"We accept the MOT test isn't perfect, but we're far better to have it than not."
Neil Worth, GEM road safety officer, said: "Removing the requirement for drivers to ensure their vehicles are checked annually would be a massive backward step for road safety.
"This would lead to a significant rise in vehicles on our roads with all kinds of dangerous defects that would only become apparent after a collision."
---