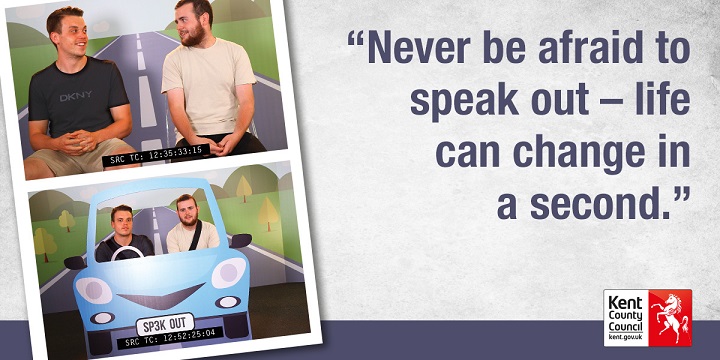 In the first of a series of features looking at the 2018 FirstCar Young Driver Road Safety Awards' winners, we profile Kent County Council's 'Speak Out' campaign.
Now in its fourth year and held annually as part of the Young Driver Focus conference, the FirstCar Young Driver Road Safety Awards scheme recognises the efforts of road safety professionals to reduce casualties among young drivers.
'Speak Out' was named the winner in two of the five categories at the 2018 awards ceremony on 25 April: 'Best New Scheme' and 'Best Young Driver Media Campaign'.
The initiative was described by the judges as 'truly outstanding' and 'the stand-out entry', with 'the right mix of research, behavioural change techniques and a clear focus on their target market'.
Launched in 2017 on the back of figures showing car occupants aged 16-24 years accounted for 23% of all fatal and serious road casualties in Kent, 'Speak Out' is a multi-channel campaign featuring films of real friends talking about friendship and trust.
The campaign films are designed to give young people the confidence to 'Speak Out' in an in-car situation where they feel unsafe by providing them with 'pre-programmed coping strategies'.
Philippa Janaway, road safety officer at Kent County Council, said: "Our research shows many 16 to 24 year old passengers would rather keep quiet than tell a driver they are concerned about their behaviour. This reluctance is more marked in passengers who are non-drivers, who seem more reticent to challenge than passengers who hold a full licence."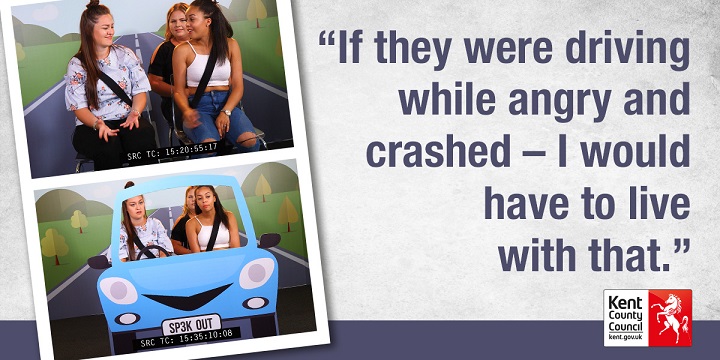 Before producing the films, the project team talked to students at a local college about how they interact with friends, what engages or disengages them and what messaging styles they found authentic.
As a result of these discussions, the campaign moved away from traditional road safety message delivery, instead using humour, props and real young people speaking to their peers.
Philippa Janaway said: "From pre-campaign research and focus groups we chose a TV 'first dates' or 'love island' style of filming, a familiar format to the age group. The filming led with light-hearted conversations on friendship generally.
"This innovative filming idea opened up new and unexpected opportunities. We produced a series of 'teaser' films introducing the young people taking part followed by a reel of genuine 'bloopers'.
"The teasers, used on social media, ensured the target audience recognised and trusted the friends in the films and what they were saying. As there was no road safety context to the teasers this built up a sense of intrigue as to what was 'coming soon'."
Independent post-campaign evaluation indicates that the approach taken by the project team paid dividends.
All of the campaign objectives were exceeded, with 75% of young people suggesting they would say something if concerned by a driver's behaviour (target of 50%).
83% could recall at least one coping strategy (target 60%), while 77% of drivers positively changed their behaviour or had their behaviour positively reinforced (target 75%).
87% of drivers indicated that they would 'Speak Out' if concerned by a passenger's behaviour (up 9% on baseline) and 75% say it made them think about their driving behaviour.
For more information on the 'Speak Out' initiative, contact Philippa Janaway via email, or on 07740756557.
---