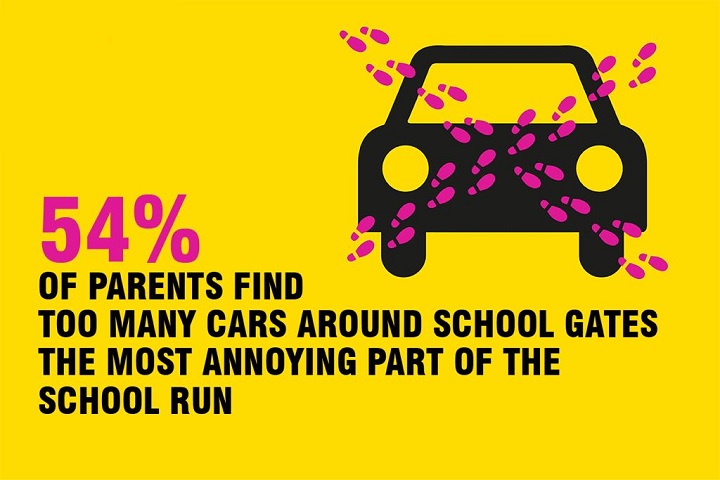 Living Streets is calling for new measures to reduce the number of vehicles on the school run, after figures show more than half of parents believe there are too many cars around school gates.
The research, carried out by YouGov, was published by the charity yesterday (1 October) to mark the start of International Walk to School Month.
At 54%, parents described 'too many cars around school gates' as the most annoying thing about the school run – followed by cars parking on the pavements (50%); and too much traffic on the journey (45%).
Also included in the top 10 are dangerous crossing points in the road (33%), poor street conditions (28%) and having to travel a long distance to/from the school (9%).
Living Streets is calling for more local authorities to pilot school road closures – prohibiting cars from the school gates at drop off and pick up times, alongside a series of other measures to encourage more families to walk to school.
Tanya Braun, head of policy and communications at Living Streets, said: "Put simply – more children walking to school means fewer cars on our roads.

"Piloting closing streets to cars outside schools at the start and end of the school day is a great way to improve the safety of our children's walk to school.
"It removes issues of unsafe parking, speeding traffic and helps to reduce the toxic air which stays around our children's schools long after the cars have left."

New figures released by DfT last week (27 Sept) show that 14% of the children killed on Great Britain's roads in 2017 were involved in incidents between 7-9am, with 23% between 3-5pm – school run hours.
Tanya Braun added: "We need to see many more measures which make it possible for families to walk to school: lower speed limits, better crossings and constraints on pavement parking.  

"By creating safer school walking routes and investing in proven behaviour change initiatives, we can help reduce the number of cars on our roads – improving safety for everyone and making the experience a much more pleasurable one."
As part of International Walk to School Month, Living Streets is encouraging people to write to their local councillor to urge them to prioritise the cretion of safe walking routes to school.
---