IAM RoadSmart has joined GEM Motoring Assist in highlighting the dangers posed by drivers who accumulate 12 penalty points but are still permitted to drive.
DVLA figures show that as of 9 April, 11,105 people remain entitled to drive despite having accumulated 12 or more points on their licences.
While this figure is down on 2013 – when it stood at 12,470 – IAM RoadSmart is 'highly concerned' that the number still runs into five figures.
The road safety charity has expressed frustration that six years after first highlighting the issue, 'little obvious action appears to have been taken'.
Neil Greig, IAM RoadSmart director of policy and research, said: "The DVLA told us they would sort this issue out years ago, and judging by the current numbers, it simply has not happened effectively enough.
"Licences need to be removed and drivers who have committed repeat offences encouraged to take remedial courses to bring home the impact of their behaviour and promote safer, more responsible driving behaviour in future."
Process 'needs to change urgently'
IAM RoadSmart says that while there is now better sharing of information between courts and the DVLA, many decisions on whether drivers should be banned are made by the courts without enough information from the DVLA.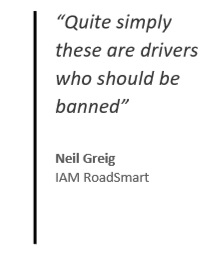 Neil Greig added: "Quite simply these are drivers who should be banned.
"Allowing them to continue to drive in all but exceptional circumstances not only undermines public trust in the well understood 'four strikes and you're out' totting up method of driving punishments.
"It also put these motorists and other road users across the UK at greater risk."
In February, GEM Motoring Assist urged the courts to 'get tough' on drivers and riders who accumulate 12 penalty points on their licences.
GEM says these motorists show 'disregard for the law' and represent 'a big risk' to other road users – adding that a driving ban should be 'inevitable' for anyone who has received 12 penalty points.
---