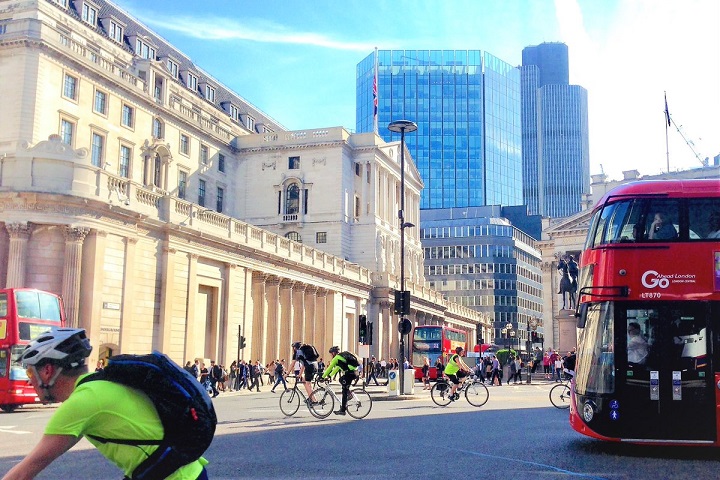 The City of London Corporation is set to introduce the UK's first 15mph speed limit, subject to Government approval.
The 15mph limit – which could come into effect as soon as 2021 – forms part of 'radical' plans to prioritise pedestrians and cyclists travelling in the Square Mile.
The Corporation's new transport strategy is influenced by research showing 90% of all journeys made in the City of London were partially or entirely walked.
Alongside lowering existing 20mph limits, the strategy proposes the UK's first 'large-scale' Zero Emission Zone – with details of a new cycling network and improved cycle hire facilities.
City of London says the strategy has been developed to help change working, living and commuting habits – with the aim of halving motor traffic by 2044.
Alastair Moss, chair of the planning and transportation committee at the City of London Corporation, said: "The City of London is one of the most well-connected parts of the UK, with 15 Tube stations, seven Tube lines, eight mainline stations, multiple bus routes and a fast-evolving bicycle network.
"We are working tirelessly to support the 513,000 workers that commute to the Square Mile every day, and to deliver the forward-thinking city that Londoners want to see.
"These radical plans will ensure the continued success of not just the City, but wider London and the UK as a leading global business and cultural destination."
Work to implement changes outlined in the City of London's transport strategy will start later this year, with the 15mph speed limit becoming operation by 2021/22 – subject to approval by the DfT.
Short-term measures have already begun, including a trial of the Lunchtime Streets programme – which uses timed and temporary street closures to make the streets more attractive places to walk and cycle.