Smart traffic lights, the flexible use of kerbsides and segregated driverless zones are among the concepts shortlisted in a national competition to design roads fit for driverless cars.
Roads for the Future, launched in January by Highways England and Innovate UK, sought ideas for preparing the UK's road network for the growth of connected and autonomous vehicles (CAVs).
81 entries were submitted, with five going through to the competition's final round. The five initiatives will receive up to £30k each to test their ideas, with a £50k prize available for the overall winner – to be announced later this autumn.
One of the shortlisted organisations is AECOM, for a project which is looking at how 'smart signals' could advise drivers and vehicles of the speed they should drive at in order to arrive at the next set of traffic lights just as they turn green.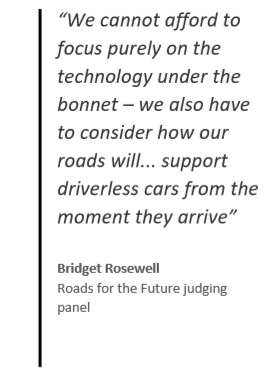 The concept, which has been praised by the RAC, will be tested using a simulation model of the A59 in York.
Leeds City Council has been shortlisted for a project that examines how the data generated from digitally connected cars could be used to improve traffic light systems.
The project team will use models of roads across Leeds to test the concept which is designed to enable highway authorities to better manage traffic on their roads, and reduce tailbacks.
The other shortlisted entries are:
Arup

: this project looks at how kerbsides with fixed features such as double yellow lines, parking bays and bus stops could become more 'flexible', with their use changing according to the time of day and levels of demand.

City Science

: this entry examines how sections of existing roads could be dedicated to driverless cars, making it easier to manage risks and integrate CAVs into the existing transport network.

Immense

: this project addresses how the latest artificial intelligence could be used to help sat-nav systems to 'learn' better routes to improve the directions given, so that both driven and driverless cars could change course to avoid congestion.
Sir John Armitt, chairman of the National Infrastructure Commission described the quality of entries as 'very impressive', in particular highlighting how entrants have sought to make maximum use of existing infrastructure.
Sir John Armitt said: "We can see the progress in developing cars for the future, with trials of driverless cars taking place across the country – we now need to make sure the technology on our roads keeps up.
"The creativity and ingenuity of all the entries we received was very impressive, with many making the most of our existing network to prepare for these latest innovations.
"These five entries clearly stood out and I look forward to seeing how their ideas develop further over the coming months."
Bridget Rosewell, chair of the competition's judging panel, said: "We cannot afford to focus purely on the technology under the bonnet – we also have to consider how our roads will work to support new driverless cars from the moment they arrive.
"With 81 entries received, the competition has demonstrated the keen interest there is across industry to be at the forefront of the technologies supporting the introduction of driverless cars."
---