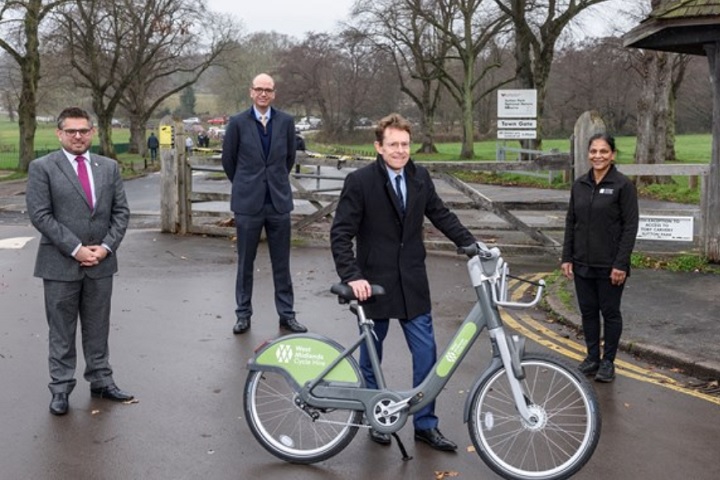 A new cycle hire scheme is due to launch across the West Midlands this spring, in a bid to offer more people the chance to cycle around the region's towns and cities.
Serco, the operator of London's Santander Cycles, has been appointed by Transport for West Midlands (TfWM) to offer hire bikes in Birmingham, Coventry, Dudley, Sandwell, Solihull, Wolverhampton and Walsall.
Serco will initially provide 1,500 bikes for hire, of which 10% will be ebikes. The pedal cycles will all have three gears to cope with the hilly parts of the region and be fitted with laser safety lights that project an image of a bicycle five meters in front of the bike.
The scheme will be launched with a limited trial in the town of Sutton Coldfield in February 2021 – with up to eight docking stations to be installed in key locations around the town centre.
A full public launch will take place across the West Midlands the following month and work is underway with partner councils to find sites for 170 fixed docking stations. 
There will also be some virtual geo-fenced docking areas which can be moved to meet demand or for large scale events such as the 2022 Commonwealth Games.
Andy Street, mayor of the West Midlands, said: "During lockdown we have seen a huge increase in people cycling around our region.
"So it is the right time to be starting a cycle hire scheme and I am delighted that Serco's cycle hire business, who have a great track record running cycle hire in London and Edinburgh are working with us here in the West Midlands.
"What's more the scheme is truly made in the West Midlands with the bikes, locks and docks all produced here, further supporting local businesses and jobs.
"We are putting unprecedented investment in our cycling and walking infrastructure, including the Starley Network of safe cycle routes launched during the summer, because it is a great alternative to the car for shorter journeys, good for the environment, good for our health and great fun."
---