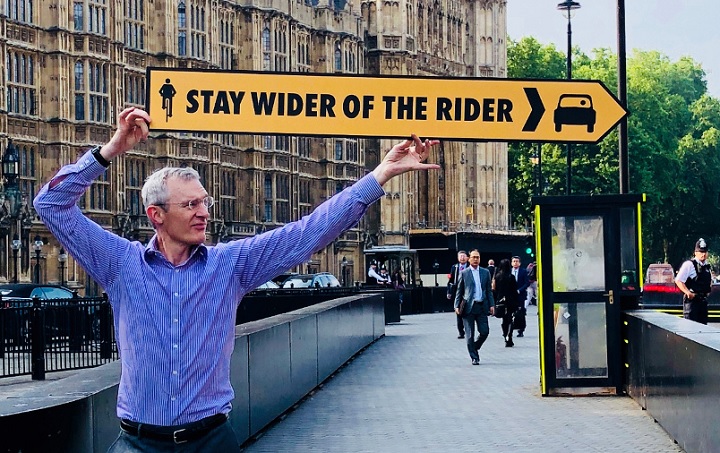 A new survey suggests that 22% of cyclists no longer ride on busy roads due to the threat of 'close passing' – with 23% saying they experience this every time they cycle.
The survey was published to mark the launch of a new campaign, organised by the London Cycling Campaign (LCC) to educate drivers about the distance that should be left when overtaking cyclists.
'Stay Wider of the Rider' was launched at the Houses of Parliament on 5 July, with an event that saw radio and TV presenter Jeremy Vine show footage of close passing, recorded on his helmet camera.
Supported by Continental Tyres and Uber Eats, the campaign will run predominantly on social media – but is backed by a website which features an online map for cyclists to record close passing incidents.
It is underpinned by a short film, featuring the Brownlee brothers (Alistair and Jonathan), who get in the way of each other during everyday situations – reflecting the need for people to have space when cycling.
Alistair Brownlee said: "Jonny and I both drive cars as well, and obviously ride our bikes an awful lot. Just take care.
"Remember when driving, as I do, that you're in a metal box and a cyclist doesn't have that protection around them, so it's really important to leave as big a gap as possible."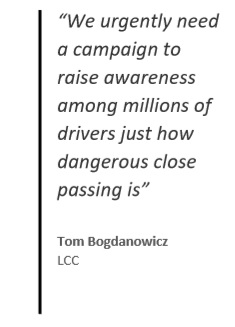 The campaign also includes an online petition to Jesse Norman, calling for support to help every police force run close pass operations.
In the Stay Wider of the Rider survey, taken by more than 3,000 people, 23% of respondents say they experience close passing every time they cycle – with 45% saying they experience it frequently.
As a result, 50% said they now cycle in the centre of the lane as much as possible, 32% said they've made changes to the routes they cycle and 22% admitted they no longer cycle on busy roads.
Tom Bogdanowicz, senior policy and development officer, LCC, said: "While it's good to see the Government beginning to take action, deterrence won't be enough to tackle close passing.
"What we urgently need is a far wider campaign to raise awareness among millions of drivers just how dangerous close passing is. That's what Stay Wider of the Rider can achieve."
Mark Griffiths, Continental Tyres, said: "We believe it is crucial that drivers and cyclists can be safe side-by-side when travelling.
"Research we carried out showed three out of five car drivers, pedestrians and cyclists and nearly eight out of 10 lorry drivers believed training for road users should include more on awareness and consideration for other types of road users.
"Initiatives such as the Stay Wider of the Rider campaign reaffirm the idea of how we can raise much-needed awareness to ultimately keep every road user safe."
---