The levels of freight being transported on UK motorways is making drivers fear for their safety, a new survey suggests.
Figures published by the Government on 5 July show that HGV traffic on motorways reached a record 7.9bn vehicle miles in 2017.
The data also shows that the size and weight of lorries is increasing – with mileage covered by HGVs with four or more axles some 44% higher in 2017 than in 1997.
On the back of these figures, a new survey by road safety charity Brake published today (13 July) suggests that 75% of people believe too much freight is being transported on UK motorways.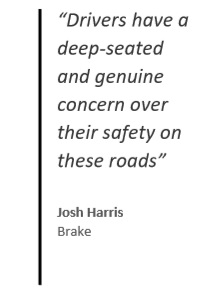 More than 25% of respondents thought it was 'highly likely or likely' that they would be involved in a fatal or serious crash on a motorway or dual carriageway.
In recent years, the Government has introduced all-lane running on UK motorways, while announcing plans to trial lorry platooning – leading Brake to suggest they are prioritising capacity over safety.
77% of respondents believe that lorry platooning 'sounds frightening', even after having the technology explained to them, and that 'if it went wrong the casualties could be very high'.
According to Brake, drivers also expressed doubt over all-lane running, with only a third saying using the hard shoulder as a driving lane would improve safety.
Joshua Harris, director of campaigns for Brake, said: "At a time when the traffic on our motorways is sharply increasing, these findings show that drivers have a deep-seated and genuine concern over their safety on these roads.
"Drivers are particularly wary over the increase in freight traffic and it's clear that trials of truck platooning will only exacerbate this concern.
"We urge the Government to prioritise safety over capacity and to ensure that any change to our road environment, such as all-lane running, is robustly tested, and the public properly informed, before the roll-out on our roads."
---