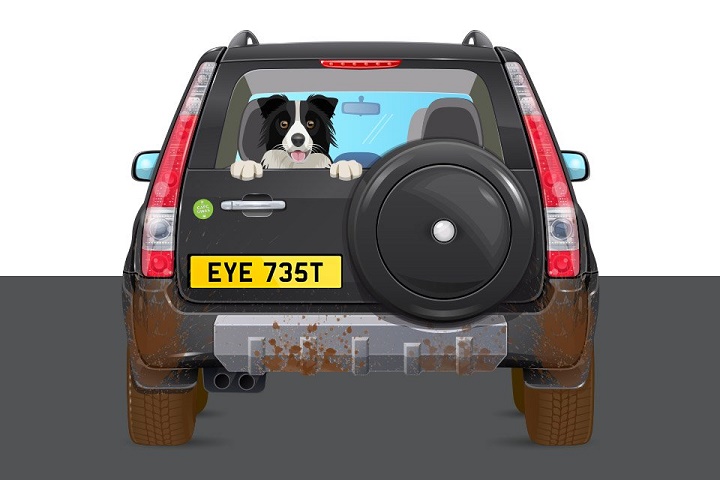 The DVLA is encouraging drivers to take the 'number plate test' – a 'quick and easy' way to check they meet minimum eyesight requirements.
The Government agency has today (23 July) launched 'EYE 735T' – a new campaign which stresses the importance of taking regular eye tests.
As part of the practical driving test, learner drivers must prove they can read a number plate from a distance of 20m (65ft) – and are then legally responsible for ensuring their sight remains good enough to drive thereafter.
The new DVLA campaign calls on drivers to continually check they can still read a number plate from the required distance – by standing five car lengths or eight parking bays away from another vehicle. The campaign also encourages anyone with concerns about their eyesight to visit their optician or optometrist for an eye test.
Dr Wyn Parry, the DVLA's senior doctor, said: "The number plate test is a simple and effective way for people to check their eyesight meets the required standards for driving.
"Having good eyesight is essential for safe driving, so it's really important for drivers to have regular eye tests. Eyesight can naturally deteriorate over time so anyone concerned about their eyesight should visit their optician – don't wait for your next check-up."
Last year, the Association of Optometrists called for those behind the wheel to have compulsory eye tests every 10 years.
One in three optometrists said they had seen patients who continue to drive with vision below the legal standard, the association said.
Drivers over the age of 70 years must actively make a declaration every three years that they are fit to drive – but do not actually have to pass a test.
In a joint statement, the road safety charity Brake and Vision Express say the new DVLA campaign is 'not enough to tackle (the) issue of poor driver vision'.
Joshua Harris, director of campaigns for Brake, said: "Any campaign to remind drivers to check their eyesight is welcome; however, awareness raising falls far short of tackling the true problem of poor driver vision, where a change in legislation is clearly required.
"Brake is calling for the law to be strengthened, to require drivers to prove to the DVLA they have had a recent, professional vision test when they take their driving test; and to be required to have tests during their driving life on a regular basis."
Jonathan Lawson, CEO at Vision Express, added: "It's a positive first step to see the DVLA is spearheading a public awareness campaign to encourage drivers to take their eye health seriously.
"It is estimated that as many as 1.5m UK licence holders have never had an eye test and road crashes caused by poor driver vision are estimated to cause 2,900 casualties.
"The NHS recommends people should have an eye test every two years, so we encourage the DVLA to remind drivers that while passing the number plate might be the legal limit, the Government's own advice is to have a full eye health check with a qualified optometrist."
---