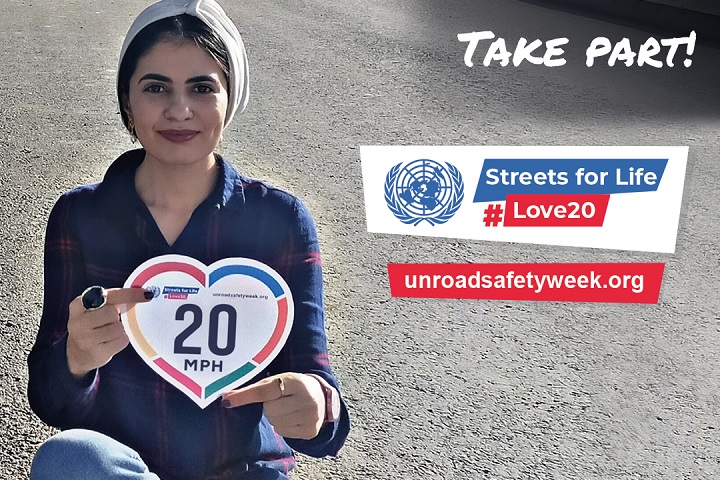 The 6th UN Global Road Safety Week gets underway today – with the aim of promoting 20mph speed limits as the norm for cities worldwide.
The bi-annual UN Global Road Safety Week is organised by the World Health Organisation (WHO).
The 2021 week runs between 17-23 May, under the theme #Love20.
It aims to promote 20mph speed limits as the norm in places where people mix with traffic, by garnering policy commitments at national and local levels and generating local support.
In the UK, campaign group 20's Plenty for Us and Landor Links are holding a free webinar at 2.30pm on Thursday (20 May).
Speakers from places such as Wales and Spain, the first country to set its default national urban speed limit to 30km/h (20mph), will outline their experiences of implementing 20mph limits.
Other subjects to be discussed include the medical and public health case for lower speeds and new speed management technologies.
Meanwhile, Global Road Safety Week is being actively supported by local authorities across the country.
Brighton and Hove City Council is using the week to promote its 20mph zones.
Mobile Vehicle Activated Signs (MVAS) are being placed across the city to remind drivers about their speed while local Speedwatch groups will also be working in 20mph and 30mph areas.
Cllr Steve Davis, member of the council's Environment, Transport and Sustainability committee, said: "We all have a responsibility in reducing the number of people being killed and injured on our roads. While we've seen positive results in Brighton & Hove, there is still a minority of selfish drivers who still believe it's acceptable to drive over the speed limits.
"20mph zones and speed limits are proven to reduce speeds and casualty numbers, as well as improve air quality and support active travel. 
"We fully support the work being done by UN Global Road Safety Week and our road safety officers in the city and across Sussex."
In Kent, officers from Kent Police are concentrating their efforts on collision hotspots along 30mph roads.
Insp Thomas Pooley said: "Speeding is one of the 'fatal four' causes of collisions targeted by roads policing patrols on a daily basis in Kent.
"Speed limits are in place for a reason and though you may wish to reach your destination quickly just a small reduction in your speed can reduce the likelihood of a collision.
"This week offers us an opportunity to keep local communities safe by tackling neighbourhood speeding and will include high visibility patrolling and static speed checks on key hotspot areas within neighbourhoods on 30mph roads."
---