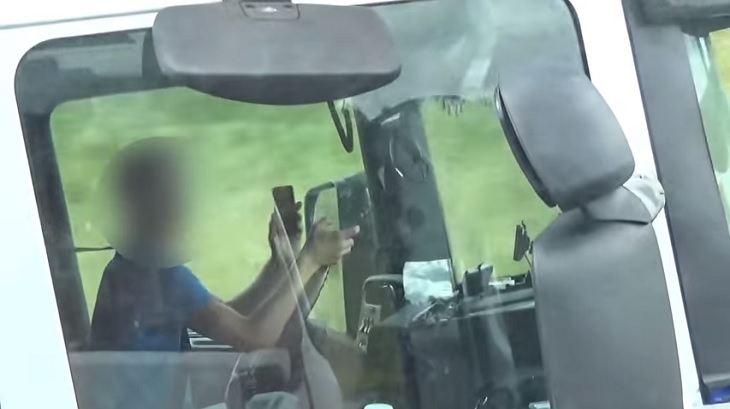 A HGV cab loaned to police forces by Highways England has helped officers apprehend more than 4,000 dangerous drivers over the last two years.
Since the initiative was launched in April 2015, 28 police forces across England have used the HGV cab – and have pulled over 4,176 drivers in relation to more than 5,000 offences.
Officers have issued 838 fixed or graduated penalty notices, and written 3,318 traffic offence reports – usually requiring attendance at a driver education course. Verbal advice has been given to 388 drivers, while there have also been 113 prosecutions for 'more serious offences'.
Looking at reasons why drivers were stopped, using a mobile phone leads the way (2,508), followed by not wearing seatbelts (901), not in proper control of a vehicle (253) and speeding (249).
Highways England says the elevated position of the HGV cab allows police officers to film unsafe driving behaviour. Offending drivers are then pulled over by police officers travelling in cars following behind.
Richard Leonard, Highways England's head of road safety, said: "The HGV cab has been patrolling motorways and major A roads over the past couple of years with the aim of improving road safety.
"The vast majority of drivers are sensible behind the wheel but a few have got into bad habits, or are simply ignoring the law and putting themselves and others at risk.
"It's shocking that around two thirds of the drivers that were stopped were using their phones when the statistics show that mobile phone use contributes to two deaths every month on the roads."
Chief constable Anthony Bangham, National Police Chiefs' Council lead for roads policing, said: "Police forces are committed to keeping our roads safe and partnership with Highways England is absolutely crucial for that, as we can see from the thousands of offences detected by the HGV cab.
"Together with targeted local action by police officers, this has become an important element of our intelligence-led operations against dangerous driving."