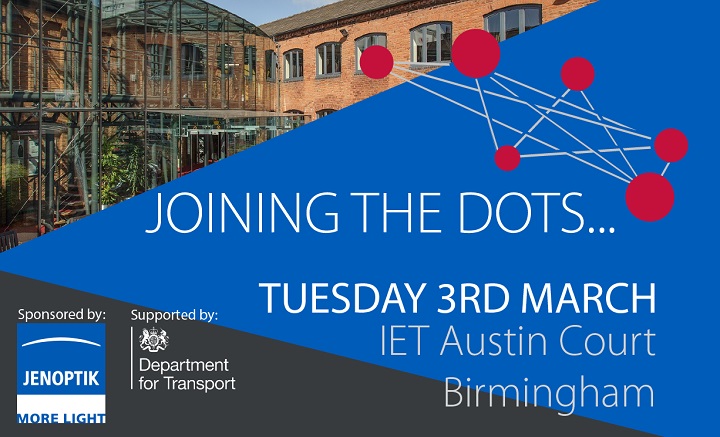 With less than three weeks until the 2020 edition of the Data Analysts' Conference, delegate registration remains open.
Organised by Road Safety GB in partnership with Agilysis, the fifth edition of 'Joining the Dots' takes place in Birmingham on 3 March 2020. It is once again sponsored by Jenoptik.
The event was attended by representatives from more than 60 organisations in 2019, and the 2020 edition is expected to attract in the region of 150 delegates.
The agenda for JTD 2020 has been put together with input from the recently formed Road Safety GB Champions' Network – set up to support data analysts by sharing best practice and improving resources for the profession.
Speakers on the agenda include: Seema Yalamanchili (Imperial College London and Imperial College Healthcare Trust), Catherine Mottram (DfT), Caroline Wallbank (TRL), Paul Coward (RAC Breakdown), Heather Ward (University College London), and Bruce Walton (Agilysis).
Delegates will also have the opportunity to participate in two workshops – featuring demonstrations of a number of programmes and data tools.
Jeremy Phillips, Road Safety GB's director of research, said: "The people that play a key role in driving the industry are now driving the agenda for their own development, and I couldn't be more pleased.
"We've come a long way since the first Joining the Dots conference in 2016. Then we had around 70 delegates but, fast forward to 2019 and we had nearly that many organisations represented by around 120 delegates. 
"And we are anticipating an even bigger turnout in March 2020."
Delegate registration remains open, with discounted rates available for Road Safety GB and MAST members. More information is available via the conference website.
The conference is also CPD compliant and Road Safety GB can issue a certificate for attendees.
---