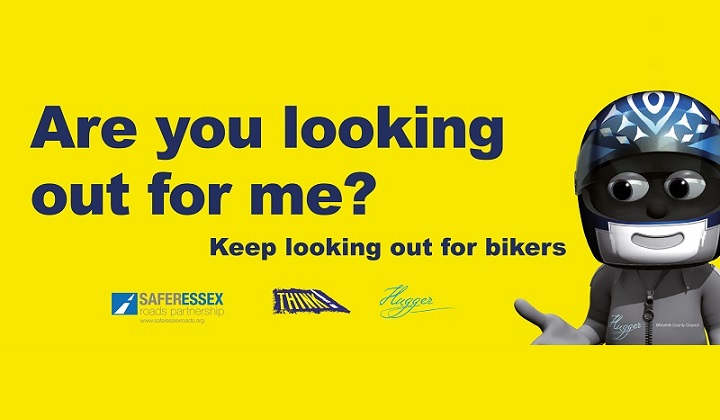 The Safer Essex Roads Partnership has re-launched the Hugger campaign in an effort to reduce the risks faced by motorcyclists on the county's roads.
The campaign, which uses the recognisable 'Hugger' character, specifically targets drivers of cars, vans and lorries, encouraging them to look out for motorcyclists.
Motorcyclists make up only 0.8% of traffic on Essex roads but are involved in over 25% of all collisions involving death or serious injury – making them the highest risk road-user group.
Research also suggests that a significant proportion of motorcycle collisions are deemed to be the fault of the other vehicle.
In 2017, there were 451 recorded injury collisions involving motorcyclists in Essex; 211 of these (47%) involved somebody failing to look properly and 259 (57%) were at give-way junctions.
Throughout April, road-users will see 'Hugger' billboard and petrol pump advertising placed in key locations, reminding road-users to look out for motorcyclists. In addition, buses travelling around the main towns across Essex will display the 'Hugger' character, while radio advertising will also be aired during the month.
Andy Stroulger, road traffic collision reduction manager, said: "We hope the campaign raises drivers' awareness of motorcyclists and encourages them to keep their eyes alert for bikes  at all times – but particularly at roundabouts, junctions and whilst filtering in traffic."
The Hugger campaign will run until the middle of May.
---