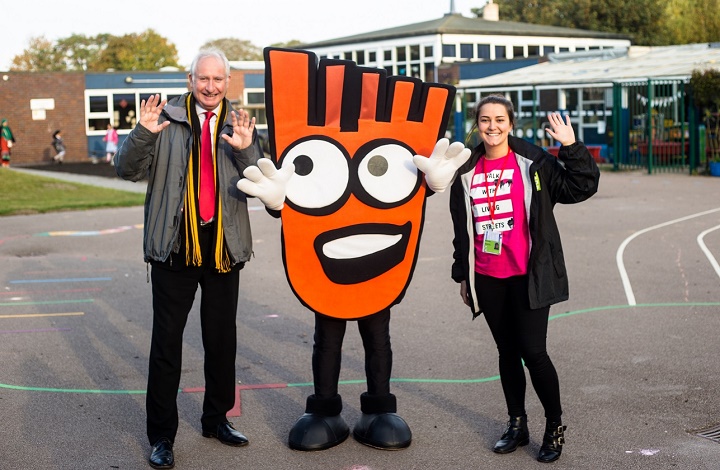 Pupils from a primary school in Cambridge have been celebrating the strides they've made to improve their health and congestion in and around their school – with the help of local MP Daniel Zeichner.
Pupils from St Luke's Primary School have been participating in International Walk to School Month this October – organised to help children across the globe celebrate the walk to school.
On 5 October, the pupils shared with Daniel Zeichner MP the benefits they've experienced while walking to school – from feeling healthier and catching up with friends to reducing the number of cars outside the school gates.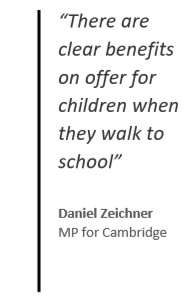 Daniel Zeichner MP said: "It was fantastic to meet with pupils at St Luke's Primary School to find out about their walk to school. I'm sure they'll inspire even more families to follow in their footsteps this International Walk to School Month – and beyond.
"There are clear benefits on offer for children when they walk to school. It's a chance for them to move more and get some exercise – great for their physical and mental health.
"At the same time, the local community benefits from less congestion, improved air quality and safer streets." 
St Luke's Primary School also takes part in WOW – the year-round walk to school challenge organised by Living Streets. WOW rewards children who walk to school at least once a week with collectable badges, with analysis suggesting the scheme increases walk to school rates by 23%.
On 1 October, Living Streets called for new measures to reduce the number of vehicles on the school run, on the back of figures showing more than half of parents believe there are too many cars around school gates.
Joe Irvin, chief executive of Living Streets, said: "Motor vehicles are the biggest source of roadside air pollution and one in four cars on the road at peak times are on the school run. Put simply – more children walking to school means fewer cars on our roads.
"We need to see many more measures which make it possible for families to walk to school: lower speed limits, better crossings, constraints on pavement parking.
"I'm delighted Daniel Zeichner MP joined pupils today to see how important the walk to school is, and why we need to prioritise making it safer and easier for families."
---