The Transport Committee has launched a new inquiry into the funding and governance of local roads in England.
Announced on 1 August, the inquiry centres around a call for written evidence – including on the condition of local roads in England and how they have fared over time.
The Committee also wants to hear views on whether the current approach to maintenance of local roads is appropriate, or whether it needs to be improved, and on the regional distribution of local roads funding across England.
Figures show local roads comprise more than 97% of total road network length – and carry two-thirds of motor traffic and almost all cyclist traffic.
The Transport Committee says road condition and maintenance has been a matter of public concern for several years – pointing to a recent AA-Populus Driver Poll which suggests that only 15% of drivers believe local roads are maintained to a high standard.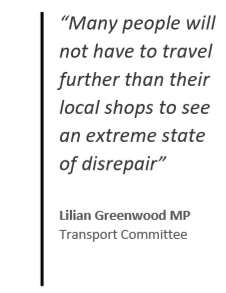 The Committee also references Cycling UK figures which suggest potholes have been a contributory factor in 22 deaths and 368 serious injuries to cyclists since 2007.
It adds that many local authorities struggle to find the funding to repair roads often enough and to the required standards, referencing the latest Asphalt Industry Association (AIA) ALARM survey, which shows English councils have seen a marked decrease in the frequency of road resurfacing.
Lilian Greenwood MP, chair of the Transport Committee, said: "Local roads are the arteries of prosperous and vibrant towns and cities. They are critical to the movement of goods as well as our own journeys.
"However, many people will not have to travel further than their local shops to see an extreme state of disrepair.
"This plague of potholes represents a major headache for all of us. The consequences of a deteriorating local road network are significant – undermining local economic performance and resulting in direct costs to motorists, through damage to road vehicles. The safety of other road users, particularly cyclists, is compromised.
"Our inquiry aims to investigate the situation in England, including current funding constraints and potential alternative models that could offer a solution. We know that this is a high priority issue among the public and I hope our inquiry will help put the onus on the Government to address it sooner rather than later."
The inquiry has been welcomed by the RAC, who last month revealed it dealt with 4,091 pothole-related breakdowns between April and June 2018 – the highest Q2 figure since 2015.
David Bizley, RAC chief engineer, said: "This inquiry will be welcomed by drivers who have to endure the dire state of our local roads on a daily basis.
"We know that more drivers are suffering breakdowns than 12 months ago – and potentially expensive damage – as a result of poor quality road surfaces. But the reality is that potholes are dangerous to all road users, particularly cyclists.
"The current approach with inadequate central funding topped up by emergency funding for 'pothole filling' on a regular basis, is not sustainable.
"We need the same long term strategic approach to fixing local roads that the Government has implemented for maintain and developing the strategic road network.
---