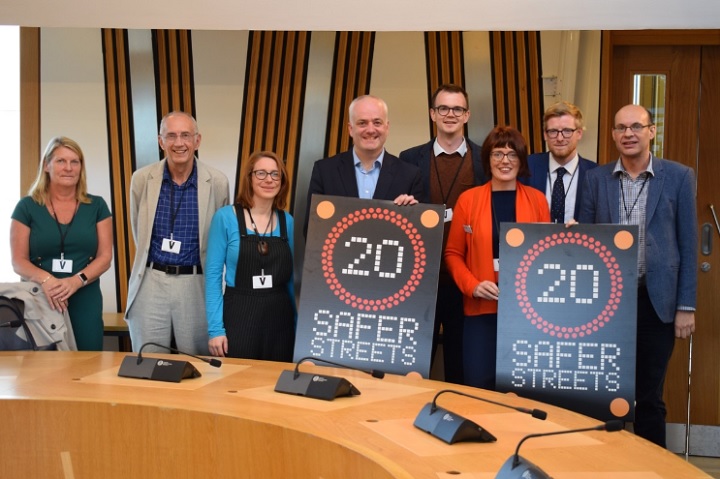 MSPs have voted down a bill which sought to make 20mph the default speed limit on residential streets in Scotland.
The Restricted Roads (20 mph Speed Limit) (Scotland) Bill was put forward by Green MSP Mark Ruskell in September 2018, who said the measures would improve child safety and save five lives a year.
However, in a passionate debate in Holyrood, opponents of the bill questioned the evidence for this claim and argued that local authorities are best placed to make a decision on where 20mph limits are appropriate.
In the vote which followed the debate, 83 MSPs opposed the bill, with only 26 – mostly Labour and Green MSPs and one from the SNP – voting in favour. Four SNP MSPs abstained.
No surprise
The result comes as no surprise, following the earlier decision of the Scottish Parliament's rural economy and connectivity committee to reject the bill, saying a 'one-size-fits-all' approach would not give local authorities enough flexibility.
Reaching its conclusion last month, the committee said that while it supported lowering some speed limits, it was unable to recommend the general principles of the bill.
Speaking at that time, Edward Mountain MSP, committee convener, said: "After considering extensive evidence, the committee has concluded that the introduction of 20mph speed limits on all restricted roads in Scotland in a one-size-fits-all approach is not the most effective way of achieving those objectives.
"The committee is of the view that local authorities should have the flexibility to decide where new 20mph zones would be most effective and appropriate for their areas.
'Regressive vote'
The campaign group 20's Plenty for Us has responded by accusing the Scottish Parliament of 'lacking national vision'. It says MSPs 'sided with the motoring lobby, ignoring public health experts and popular support'.
Rod King MBE, director of 20's Plenty for Us, said: "This was an opportunity for the Scottish Parliament to align its standard and values with best practice in European countries where 30km/h (18.5mph) is the de-facto default.
"But the vision they had was with the eyes of a driver rather than that of a child, or mother walking children to school, or elderly person walking to shops. Their vision was not of a healthier nation that was unafraid to walk or cycle in their communities.
"Our campaigns across Scotland will continue to keep up the pressure to set 20mph as the default for community streets and hold this Government to account for casualties on their life-threatening 30mph national limit roads."
---