Government plans to make pavements the 'default location' for new utilities' infrastructure have been criticised by pedestrian and disability campaign groups.
Speaking to The Times, Chris Grayling said the move would cut congestion and reduce the number of potholes of UK roads.
The transport secretary explained that potholes are far more likely to appear on sections of roads that have been recently dug up.
Mr Grayling added that companies would not be allowed to dig up pavements on both sides of road at the same time, to ensure that pedestrian routes were retained where possible.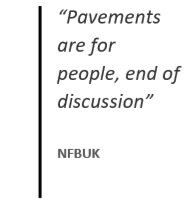 However, the plans have been heavily criticised, with a number of campaign groups expressing concern over potential safety implications.
Stephen Joseph, chief executive of the Campaign for Better Transport, told The Times: "Pavements are already in a terrible state, partly because we already have lots of utilities under there.
"The result is that the NHS spends an awful lot of money treating people who've had trips, slips and falls on uneven and badly maintained pavements.
"Unless Chris Grayling is prepared to make much more money available for pavements, he will simply make an already big problem a whole lot worse. You can't just export the problem from roads to pavements without expecting major consequences."
A spokesperson for the National Federation of the Blind of the UK said: "If Chris Grayling thinks he is going to disrupt access for blind and disabled people simply to grab a quick headline rather than address underlying issues around efficiency, proper road maintenance and collaboration within the roads sector, he is going to have one hell of an fight on his hands.
"Pavements are for people, end of discussion."
David Davies, executive director of the Parliamentary Advisory Council for Transport Safety (PACTS), said: "The proposal to relocate services from the road to the pavement needs to be closely scrutinised for the implications for pedestrian safety.
"Cycleways, too, are likely to be affected. It is vital that savings in road maintenance do not become costs to the NHS and social care."
A spokesperson for the DfT told Transport Network that Mr Grayling's announcement was not an official Government announcement – and that it was unable to comment because of Purdah restrictions in advance of local government elections.
---