The country's leading roads policing officer has expressed concern that road deaths 'are going to get worse' – and that previous declines in fatalities will be 'reversed'.

Speaking at the National Roads Policing Conference last month, chief constable Anthony Bangham, roads policing lead for the National Police Chiefs' Council (NPCC), set out his vision for the UK to have the 'safest roads in the world'.
Mr Bangham, who previously controversially suggested that drivers travelling at just one mph over the speed limit should be prosecuted, pointed out there are now 20,000 fewer police officers than a decade ago – and fewer dedicated roads policing officers.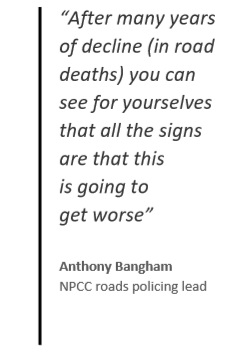 He said that putting police officers back on the roads in 'significant numbers' is essential for saving lives.
Mr Bangham said: "Police officers play a vital role in disrupting criminality and reducing death and serious injury on our network.
"If we look at the data, it shows a 39% reduction in deaths since 2007. But from 2011 onwards, you start to see a flattening out.
"After many years of decline, you can see for yourselves that all the signs are that this is going to get worse, it is getting worse and if we don't address the problem, we are going to see all those declines reversed."
Mr Bangham said it was 'unfortunate' that the road safety minister Jesse Norman was unable to address the conference in person, instead sending a video message, as the Government 'needed to heed his warnings if they are serious about reducing road fatalities'.
Mr Bangham also told conference delegates that his focus for 2019 will be to work towards the goal of safer roads, safer speeds, safer road users and vehicles and post-crash response.
He encouraged more forces to prioritise roads policing and join him in calling for greater investment.
---