The UK's 'perennial pothole problem' shows no sign of ending any time soon, according to the RAC.
Figures published by the breakdown organisation on 12 October show that its patrols attended 1,746 pothole related breakdowns in Q3 of 2018 – including damaged shock absorbers, broken suspension springs and distorted wheels.
While, as is customary, the number of pothole-related breakdowns dropped substantially from Q2 – the RAC says the number of callouts over the last 12 months remains 'stubbornly high'.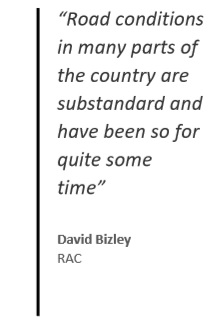 In the last year the RAC dealt with 14,220 pothole-related breakdowns – representing 1.5% of all its call-outs during this period.
This is the second highest percentage since the RAC started analysing this data in 2006, just short of the 1.6% seen during 2015 and 2017.
The RAC also says its Pothole Index – which is based on a quarterly rolling analysis of pothole-related breakdowns – shows 'things are not getting any better'.
The index, which began at a base of 1.00 in 2006 when the RAC started recording data, now stands at 2.63 – meaning motorists are now more than two and a half times more likely to suffer a pothole breakdown than they were 12 years ago.
The figure is also 'considerably higher' than it was in Q3 2017 – when it stood at 2.38.
David Bizley, RAC chief engineer, said: "There is little doubt local road conditions in many parts of the country are substandard and have been so for quite some time.
"Data from this quarter's RAC Pothole Index supports this, showing there has been a steady deterioration in road condition over the last 18 months with the latest quarter not showing a significant improvement.
"We cannot simply blame Storm Emma and the Beast from the East, even though they certainly made matters worse.
"We need a 10-year plan with ring-fenced funding that will eliminate the backlog of preventative maintenance that will stop the plague of potholes appearing every time there is bad weather."
---