A host of cycling and walking schemes, including a £4.6m traffic-free corridor, are being considered by authorities in Manchester.
The six projects, which will form part of Greater Manchester's cycling and walking network, have been put forward for funding and will be discussed by the Greater Manchester Combined Authority (GMCA) this week.
If approved, approximately £10m would be provided to implement the schemes – £8.3m from Greater Manchester mayor's Cycling and Walking Challenge Fund and a further £1.5m from council contributions.
The headline project is a traffic-free, off-road walking and cycling corridor connecting Swinton to Monton (Salford) – costing approximately £4.6m.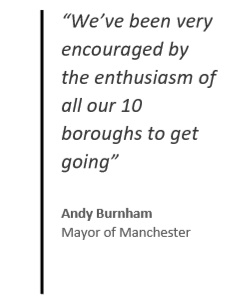 Chris Boardman, Greater Manchester's cycling and walking commissioner, said: "We're really pleased that things are moving at such a fast pace; the people of Greater Manchester will soon have a genuine choice in how they travel, ensuring that they and their children have a viable and attractive alternative to the car.
"It's now a race to see which district can deliver first. One thing we won't compromise on, however, is quality."
The latest projects bring the total planned spend on cycling and walking across Greater Manchester to more than £46m.
To date, 21 projects have been confirmed – delivering 95 new and upgraded crossings and junctions – as well as 23 miles of new cycling and walking routes. This includes eight miles of Dutch-style cycle lanes that are separated from motor traffic.
Andy Burnham, mayor of Greater Manchester, said: "Major improvements like this can't happen overnight but we've been very encouraged by the enthusiasm of all our 10 boroughs to get going.
"Lots of work is going on behind the scenes to make sure we are delivering world-class projects in all corners of our city-region."
---