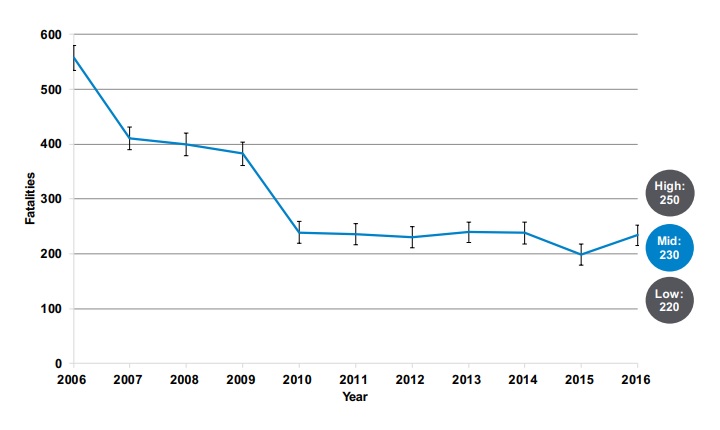 Final estimates show there were 230 drink-drive related deaths in Great Britain during 2016, a year-on-year rise of 15%.
The figures, published today (9 Aug), show that between 220 and 250 people were killed in collisions where at least one driver was over the drink-drive limit – leading the DfT to produce a central estimate of 230 deaths.
The final estimate for 2016 is higher than in 2015 – when there were 200 drink-drive fatalities – although the DfT says the rise is not statistically significant.
The figure is, however, lower than the DfT's initial estimate, published in February, of 240 drink-drive related deaths in 2016.
The figures also show that an estimated 9,040 people were killed or injured in drink-drive collisions, representing a rise of 7% from 8,470 in 2015 – and the highest number since 2012.
The total number of collisions where at least one driver or rider was over the alcohol limit also rose, up 6% to 6,070.
Around 13% of all road deaths in 2016 were drink drive related, unchanged from the previous year.
While the DfT describes the 2016 stats as 'continuing a period of stability recorded since 2010', other stakeholders have expressed concern.
Road Safety GB describes the increase in drink drive collisions as 'naturally worrying'; the road safety charity Brake says the figures show that drink-driving is an 'increasing blight on British roads'; while the RAC describes the statistics as 'very disappointing'.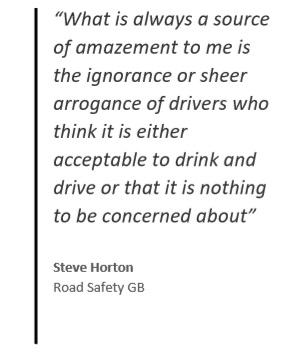 Steve Horton, Road Safety GB director of communications, said: "The fact that drink drive crashes have increased is naturally worrying. The impact on 9,000 lives illustrates the significant human cost to what is essentially a selfish and arrogant act by a minority of drivers.
"No driver can claim to be unaware of the existence of a legal limit even if they cannot know when they have reached it, and yet some still choose to run the risk of judging what that limit may be or indeed just ignore its presence.
"What is always a source of amazement to me is the ignorance or sheer arrogance of drivers who think it is either acceptable to drink and drive or that it is nothing to be concerned about; thankfully these drivers are in the minority.
"Research clearly shows that even small amounts of alcohol will affect the ability to drive safely and the majority of drivers now understand this.
"Reducing the UK's drink driving limit would reaffirm that drink driving is a serious issue, and would help to further isolate violators – making their behaviour even more obvious to the rest of us and easier to detect."
Joshua Harris, director of campaigns at Brake, said: "How many more lives must be needlessly lost before the Government acts on drink-driving?
"The Government should put its money where its mouth is and align the law with the message from its 'THINK!' campaign: "if you're driving, it's better to have none for the road".
"Only this zero-tolerance approach can create the change required to rid our roads of the menace of drink-driving.
Pete Williams, RAC road safety spokesman, said: "The number of KSI accidents involving illegal levels of alcohol have been relatively stable for a number of years but are now worryingly showing an increase.
"We are concerned that this may be the start of a trend to which the Government must be vigilant.
"We need to understand whether it is the hard core of habitual heavy drinkers or growth in the number of drivers who admit that they occasionally drive knowing they are over the limit. Either way the message is the same – drink driving ruins lives and makes our roads more dangerous."
---