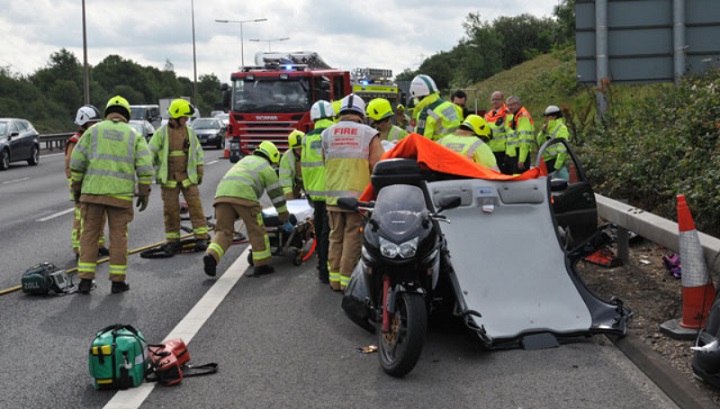 A total of 1,793 people were killed on roads in Great Britain during 2017 – meaning the number of road deaths has remained largely unchanged since 2010.
The 2017 figure, published today (27 Sept) by the DfT, is one death more than in 2016 (1,792) – making it the highest annual figure since 2011.
Road safety stakeholders have greeted the 2017 stats with a mix of concern and criticism aimed at the Government for the lack of progress since 2010 (see foot of article).
The DfT figures also show that at 24,831 people were seriously injured in 2017; however, the DfT points out that this figure is not comparable to earlier years due to changes in casualty reporting methods, introduced in 2016.
The DfT acknowledges that the new system is more accurate, and has resulted in a significant increase in the number of serious injuries recorded in both 2017 and 2016 (24,101) – compared with 2015 (22,144).
In contrast, the total number of road casualties fell in 2017 – down 6% to 170,993.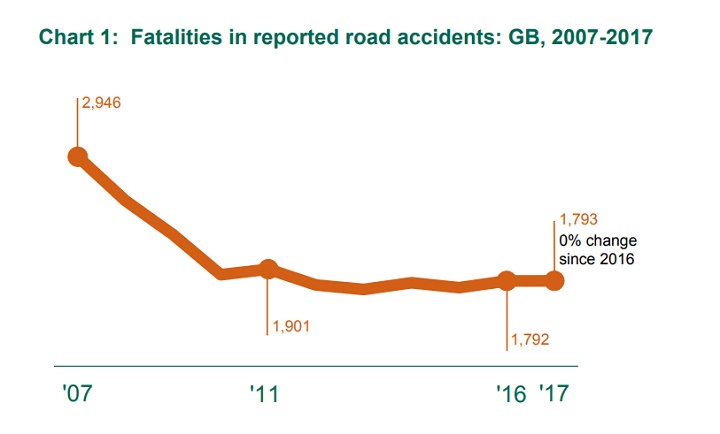 In terms of road user type, pedestrian deaths rose by 5% to 470 in 2017. The 2017 figure is also 11% above the 2010-14 average of 424.
Motorcycle deaths also increased – up 9% to 349.
However, there were falls in the number of cyclists killed – down 1% to 101 – and the number of car occupants killed – down 4% to 787.
Looking at age, the number of fatalities aged between 17-24 years decreased by 7% in 2017 – down from 299 in 2016 to 279. The DfT says this 'follows a general year-on-year downward trend' for this age group.
However, the number of fatalities aged 60 years and over increased by 5% to 559 (from 533 in 2016). The DfT says this was driven by the number of pedestrian casualties in 2017 (216 compared to 186 in 2016).
How have road safety stakeholders reacted?
Reaction to the 2017 statistics comprises a mix of concern and criticism, with a number of road safety stakeholders condemning the lack of progress made since 2010.
Road Safety GB says the figures highlight the 'ongoing need to remain focused on the work to educate, engineer and enforce for safer roads'.
Steve Horton, director of communications, said: "As with every annual announcement of road casualty data, there is no good news here just bad and worse, with the stark reminder of lives changed and lives ended.
"As these numbers fluctuate over time we are tempted to identify 'good' or 'bad' years based on the raw numbers, but what this data cannot provide is proper insight to the pain and suffering crashes lead to, nor the wave of emotional impact that radiates out like a tsunami through the families, friends and acquaintances that each victim has.
"So whilst the numbers are important we must not lose sight that these are people, and regardless of the size of number it is always too many people.
"What this data does highlight however, is the ongoing need to remain focused on the work to educate, engineer and enforce for safer roads; to make it easy for those who want to do the right (safest) thing – and for those who choose not to to be identified and dealt with through legal process.
"We know our road network is not ideal and in many cases we have to make the best of what we have, so sharing the roads and finding a way to be considerate to others becomes more important."
The RAC says the figures serve as as a 'stark reminder' of how much work is still required to improve safety of the UK's roads.
Pete Williams, RAC road safety spokesperson, said: "This new data makes for sobering reading – there has now been no substantial reduction in fatalities since 2010 with the numbers killed on the roads remaining stubbornly high.
"It also remains the case that casualties among some vulnerable road user groups, specifically pedestrians and motorcyclists, are rising which is a concern.
Brake says the figures highlight the 'shocking lack of progress on road safety improvement in Britain'.
Joshua Harris, director of campaigns for Brake, said: "This stagnation must be arrested and yet the Government sits on its hands and rejects the introduction of policies which are proven to save lives."
"Our most vulnerable road users – pedestrians, cyclists and motorcyclists – remain at dangerously high risk on our roads, paying the price for the dominance of the motor car in our lives.
"Pedestrian deaths increased to their highest level this decade whilst motorcyclists now account for nearly a fifth of all road deaths, despite their small numbers.
"The Government must invest in active travel to give people safe and healthy ways to get around and focus on improving the safety of our roads – starting with lower speed limits."
IAM RoadSmart says despite the fact cars are getting safer and a step change in new road investment, careless human behaviour and increasing traffic levels are 'cancelling this out'.
Neil Greig, IAM RoadSmart director of policy and research, said: "We appear to have reached a hard core of human behaviour related crashes that requires much more focus on driver training and quality if we are to make progress towards a long term vision of zero deaths on our roads.
"Road safety in the UK seems to be bumping along the floor with yet another year without real improvement in key fatal injury statistics.
"With seven years without progress it is clear that we have an increasingly complex picture of good news, such as safer cars and investment in new roads, being cancelled out by more traffic and a hard core of human behaviour issues that are the most difficult to tackle."
---