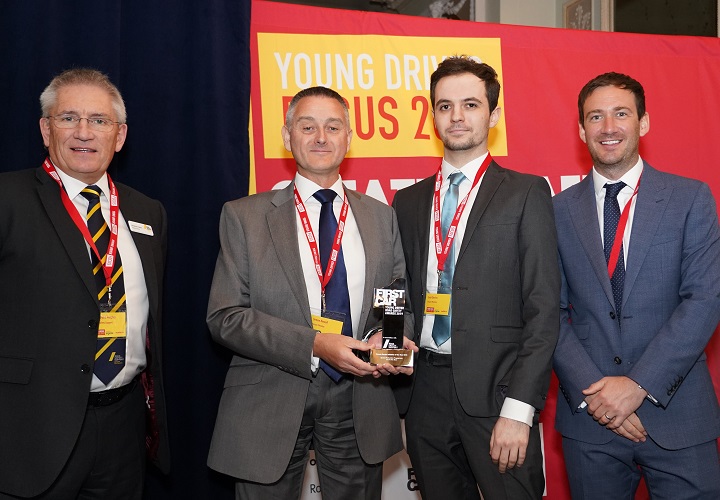 In the first of a series of features looking at the 2019 Young Driver Road Safety Awards' winners, we profile insurethebox's Speed Reduction Programme.
Now in its fifth year, the Young Driver Road Safety Awards scheme recognises the efforts of road safety professionals to reduce casualties among young drivers.
The winners are chosen by a panel of judges with broad and extensive road safety experience. In all categories the judges look for schemes with 'clear and measurable aims and objectives and for evidence of evaluation'.
At the 2019 awards' ceremony, held as part of Young Driver Focus 2019 in London on 1 May, insurethebox was recognised in the Best Private Sector Initiative category.
Delivering 'genuine road safety benefits'
The Speed Reduction Programme sees insurethebox proactively contacting policyholders who speed – identifying specifically where and when they are speeding and highlighting the risks they pose to themselves and other road users.
Described by insurethebox as 'ground-breaking', the scheme is designed to empower young drivers to modify their behaviour – by increasing awareness of the dangers of speeding.
insurethebox says the scheme has resulted in a 28% reduction in speeding instances among the 'highest risk drivers' – while among young drivers, collision frequency has reduced by 9%.
Simon Rewell, insurethebox's road safety manager, said: "Improving road safety, particularly among young drivers, is an integral part of the insurethebox proposition.
"The Speed Reduction Programme is an extension of our core service, empowering young people by giving them the information they need to take control of their driving behaviour.
"Our analysis shows that young drivers who speed between midnight and 7am are three times more likely to have an accident than customers who only speed during the day.
"Through the personalised insurethebox portal for each policyholder, and our proactive programme of communication, we give customers feedback on their driving to raise awareness of the 'danger zones'.
"We have clear evidence that this approach delivers genuine road safety benefits and we're delighted that this has been recognised."
---
Judges notes
A scheme which uses data to positively affect behavioural change with young drivers. The judges said this was a properly tested initiative and were encouraged to see use of a pilot and control group.
Technology used well with positive outcomes, which are properly evaluated. A very effective scheme and great to see a private company with a deep understanding of road safety.
---