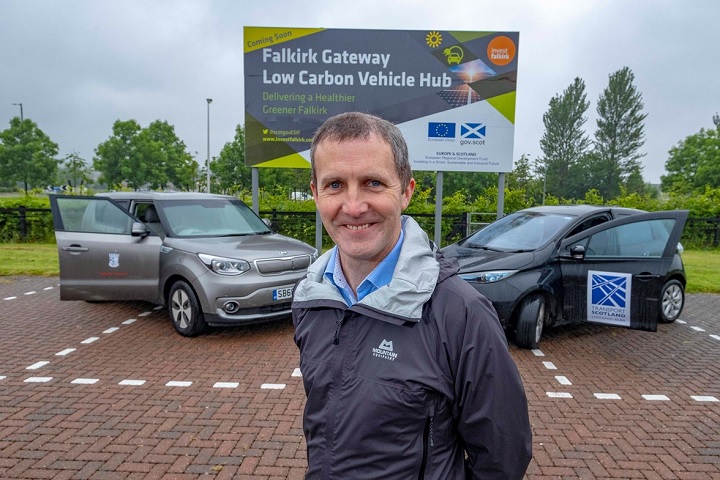 The Scottish Government has pledged more than £70m towards greener transport choices, with funding boosts for electric vehicles and active travel infrastructure.
On 18 June, Transport Scotland announced £51m of its active travel budget for 2019/2020 would be used to improve walking and cycling infrastructure – and will be match funded through the Places for Everyone programme.
Launched earlier this year and managed but Sustrans Scotland, the Places for Everyone fund brings three existing funding streams – Community Links, Community Links PLUS and Safer Routes to Schools – into one programme.
Michael Matheson, cabinet secretary for transport, said: "Last year we doubled the active travel budget and we have maintained this record funding again this year to increase the speed of change in the number of people walking and cycling and to develop an active nation.
"While we are unlikely to reach 10% of all journeys made by bike by 2020, our ambitious push has led to good results in some areas, with Edinburgh now seeing rates of cycling at 9.8%.
"Infrastructure is key and I'm delighted that a record sum of money, £51 million prior to match funding, will be invested into Scotland's communities through the Places For Everyone programme."
£20m boost for electric vehicles
The Scottish Government has also confirmed £20.6 million to support the uptake of electric vehicles, through two programmes.
The Switched on Towns and Cities Challenge Fund will receive £12.1m to support 'high impact activity' that incentivises, encourages and promotes the use of electric vehicles.
Meanwhile the Local Authority Installation Programme will receive £8.5m to fill gaps in existing infrastructure provision in order to 'promote range confidence' for electric vehicle drivers.
Michael Matheson added: "Supporting the uptake of ultra-low emission vehicles is integral to Scotland's sustainable economic growth. 
"Electric vehicles are a key component of our goal of making Scotland's air quality the best in Europe. That is why we have set our ambitious target to phase out the need to purchase new petrol and diesel cars and vans by 2032."
---