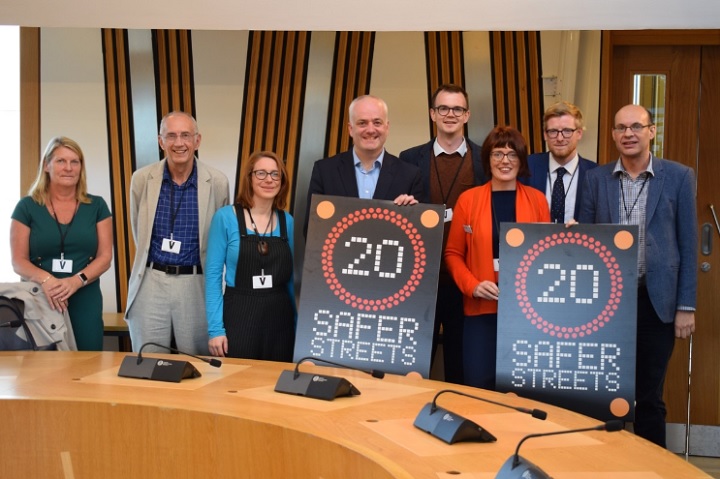 A Scottish Green Party MSP has published a new Bill to lower the default speed limit in urban areas across Scotland from 30mph to 20mph.
The Safer Streets Member's Bill, which has cross-party support, was introduced to Scottish Parliament by Mark Ruskell MSP on 21 September.
Mr Ruskell says making 20mph 'the norm' in urban areas would reduce injuries and deaths and cut air pollution.
The consultation which preceded the Bill received more than 2,000 responses.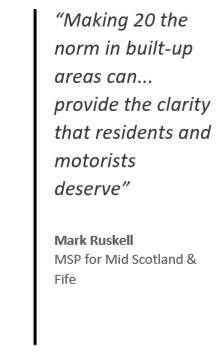 The Bill has the backing of the leaders of Glasgow and Edinburgh city councils, and MSPs from four of Holyrood's five parties.
It will now be scrutinised by a parliamentary committee and, if passed, could become law 'by the end of next year'.
Mark Ruskell, Scottish Green MSP for Mid Scotland & Fife, said: "As a local councillor and an MSP I have seen first-hand the frustration of communities that want lower speed limits but find the current process overly-complicated.
"By making 20 the norm in built-up areas we can end this frustration and provide the clarity that residents and motorists deserve.
"It's clear that a lower limit will mean safer streets, and I'm delighted that my Bill enjoys widespread public support, the backing of safety groups, health experts, local authority chiefs and campaigners.
"I look forward to it being examined by parliament in the months ahead."
A report published by the Glasgow Centre for Population Health (GCPH) earlier this month suggests that introducing a 20mph limit on urban roads in Scotland could lead to a 13.5% reduction in casualties.
However, a recent investigation by The Sun newspaper claims that councils are wasting millions of pounds of 20mph zones which, rather than improving safety, could be causing more deaths.
---