A new study shows summer is one of the 'most prolific times' for drink-driving on UK roads – with more than 10,400 offences recorded between June and August 2017.
The Confused.com research – based on figures provided by 33 police forces in England, Wales and Scotland – shows 10,424 drink-drive offences were recorded in the three month 'summer' period in 2017.
This compares to 10,390 in 'winter' (January, February and December 2017), 10,268 in 'spring' (March to May) and 9,959 in 'autumn' (September to November).
Looking at monthly totals, the highest number of offences was recorded in December (4,043) followed by July (3,749).
Confused.com has also published the findings of a new survey, which suggests that 42% of UK motorists admitting to driving after having an alcoholic drink – a figure which rises to 56% during the summer months.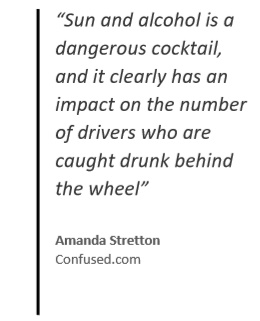 17% of respondents said they have driven while knowingly being over the legal alcohol limit, with 24% of that cohort suggesting they have done so the morning after (between 6am and 12pm).
As a result, Confused.com has created a 'morning after calculator' which allows users to input their drink of choice, how many glasses they have had, and when they stopped drinking, to estimate when their body will be free of any trace of alcohol.
12% of respondents said they have had an accident or near-miss 'caused by drink-driving'.
Amanda Stretton, motoring editor at Confused.com, said: "Sun and alcohol is a dangerous cocktail, and it clearly has an impact on the number of drivers who are caught drunk behind the wheel.

"We know that it can be hard for motorists to calculate how many units they've had, and how long they have to wait until they can drive.
"So we've created a morning-after calculator to give drivers a rough idea as to how much alcohol is still in their system, and how long it typically takes to leave their body.
"Drink driving is a dangerous and punishable offence, which can seriously impact the safety of our roads and put other road users at risk. The offence can land drivers with a fine, or even a driving ban, which can have a negative impact on their car insurance premiums.
"To avoid getting caught out, we suggest drivers stop drinking early if they know they have to get behind the wheel in the morning, but the best advice would be to avoid drinking alcohol at all."
---