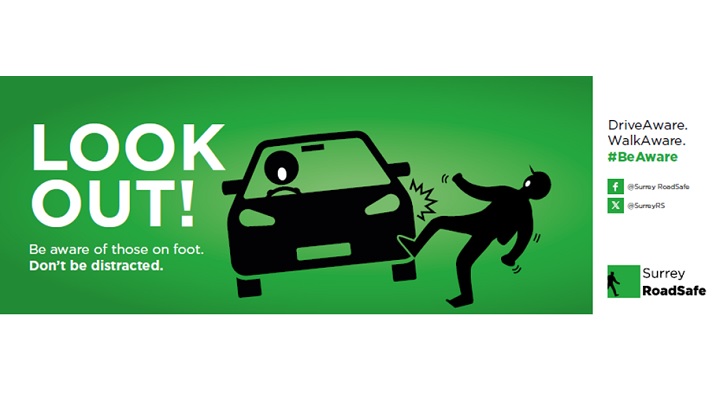 Surrey RoadSafe has launched a new campaign to provide education and engagement on the importance of pedestrian safety across the county.
The Autumn #BeAware campaign targets drivers travelling at peak times, reminding them of their responsibility to keep our most vulnerable groups safe – particularly around school-zones, high-streets and residential areas.
It will also raise awareness to pedestrians of their vulnerabilities and the importance of being aware of their surroundings when walking on or around busy roads.
The campaign runs until 26 November, with Surrey RoadSafe saying the desired outcomes are that:
Drivers are more aware of their responsibilities on the road and dangers posed to pedestrians, and are encouraged to improve their driving habits to keep vulnerable road users safe

For pedestrians in Surrey to feel safer using the roads, especially around school-zones, high-streets and residential areas, and using designated crossings and removing distractions.
The campaign runs on radio (Heart Surrey) and social media, as well as on buses around the county.
Data shows there were 335 pedestrian casualties on Surrey's roads in 2022, of which 107 were killed or seriously injured.
---