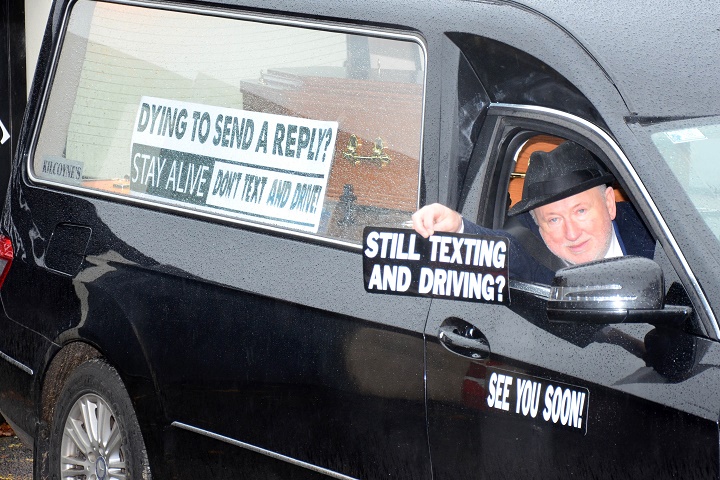 Messages highlighting the dangers of texting while driving are being displayed by hearses in County Mayo, as part of a 'shocking and memorable' road safety campaign.
The 'Dying to send a reply? Stay alive, don't text and drive' campaign was devised by Mayo County Council, in partnership with Michael Kilcoyne, a local councillor and funeral director.
Mr Kilcoyne said: "You can see it at every traffic light, at every junction, there's always somebody who has the head down to the right and you know what they're doing. 
"I hope this will get motorists to realise the dangers of driving and texting."
Messages on the hearses also include 'Still texting and driving? See you soon'.
Mayo County Council says the use of a hearse is a macabre attempt to hammer home the dangers of using a mobile phone while driving. 
Noel Gibbons, road safety officer, said: "The campaign tackles a real problem on the roads. 
"With dark mornings and dark evenings, it's easy to spot the motorists with a mobile phone left on their laps as they drive. Their cars are illuminated by their phones receiving text messages and phone calls causing a distraction.
"Anyone who drink-drives, speeds, fails to wear seat-belts or uses their mobile while driving could end up in hospital or the mortuary, or worse, force someone else to be in hospital or mortuary."
---