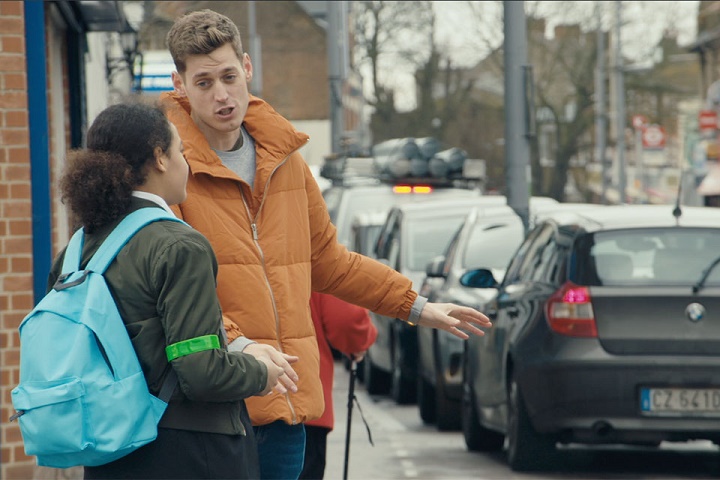 THINK! has published more than 50 new child road safety resources for parents, teachers and schools as part of a new campaign.
Launched today (16 May), the campaign is fronted by CITV star Sam Homewood and urges children to 'stop, look, listen, think' when crossing the road.
The free resources, which are available from the THINK! website, include mobile games and educational films, photographs and illustrations created by students from Farnborough Sixth Form College – as well as a new THINK! map to help children pinpoint risky areas near them and consider the best way to travel safely.
A new 'Safer Journeys Anthem' (below), featuring the 'stop, look, listen, think' message, has also been launched, alongside other games, films and lesson plans – ahead of the half term and summer school holidays when children are likely to be spending more time outdoors.

To mark the launch of the campaign, Sam Homewood (pictured above) – who features in one of the new films – visited Holy Family School in Walthamstow to encourage pupils to think carefully about crossing roads.
Sam Homewood  said: "I'm delighted to be a part of this THINK! campaign to help spread the word about road safety among young people.   
"Working with children every day, I see the huge impact that simple precautions can have on their lives. I hope this campaign will help keep children safe on our roads and encourage them to look out for each other."
The DfT says THINK! campaigns have helped reduce child road deaths by 90% since records began in 1979. However, six children die and 170 more are seriously injured every month on the UK's roads.
Jesse Norman, road safety minister, said: "Britain has some of the safest roads in the world but we are always looking at new ways to make them safer.
"As more children take advantage of the better weather by walking to school or playing outside, it is important they know how to cross roads safely.
"THINK!'s new resources will make it fun and easier than ever for schools and parents to help children learn good habits that can last a lifetime." 
The quality of the campaign resources has been welcomed by Road Safety GB.
Steve Horton, director of communications, said: "It's really good news that DfT are supporting local road safety activity with the production of these high quality lesson plans. They are clearly well produced and carry the hallmark of engagement with educationalists, for which DfT should be rightly commended.
"The clear use of learning objectives and outcomes, and the inclusion of differentiation and options to extend the learning show that a lot of thought has gone into these resources.
"The information, advice and structure they offer to schools, local authority road safety officers and other professionals means good quality products are available and its for our profession to ensure we have good quality people to deliver them; development through the RSGB Academy of course can support the provision of quality delivery.
"I commend these resources to all road safety professionals who work in or work with schools, and encourage them to promote their use through either delivering the interventions directly or supporting school staff to integrate them into their curriculum.
"Preparing young road users for future safer road use is an important aspect to casualty reduction activity; structured learning around the key safety attitudes and behaviours underpins a lifetime of safer road use."
The new campaign follows a long and a proud tradition of successful child road safety campaigns, spanning several generations and featuring much-loved icons such as the family of hedgehogs, Kevin Keegan, James Earl Jones (the voice of Darth Vader) and David Prouse as the Green Cross Code Man.
The current campaign will feature across Facebook, Twitter and Pinterest.
---