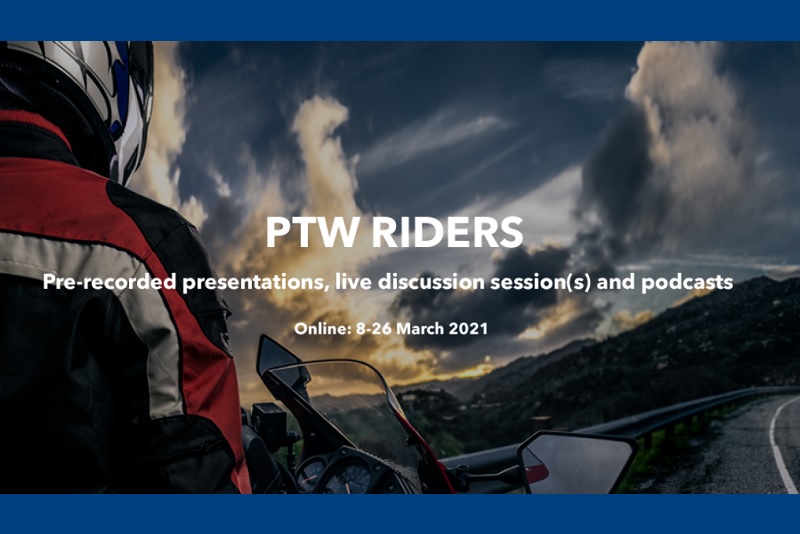 A number of presentations being delivered as part of Road Safety GB's upcoming online PTW event explore how practitioners are using social media to interact with riders.
The event, 'PTW Riders: improving safety and reducing collisions and casualties', is being organised by Road Safety GB and will be aired free-to-all during March 2021, commencing Monday 8 March, and will follow a similar format to the Festival of Road Safety.
The programme comprises a series of pre-recorded presentations and podcasts (published at 10am each day) – as well as a live workshop and Question Time session.
Three of the presentations look at the use of social media – and other online channels – to reach riders.
The first of these, delivered by Heidi Duffy MBE, facilitator of the Shiny Side Up Partnership (SSUP) will be published on Thursday 11 March.
Heidi is joined by James Rees from Koala TV and Stennik's Edward Seaman to discuss the SSUP's 3D Know the Dangers campaign – which will launch on the same day as the presentation.
The 3D animated road safety resource comprises seven short video clips, based on the most common collisions that lead to motorcyclists being killed and seriously injured.
The following day (12 March), Debbie Huckle, vice chair of 2Wheels London, will talk about the #ridebetter campaign which features the 'Angry Al' character.
The social media campaign was developed by 2Wheels London in an effort to resonate with young riders in the Capital – and to positively influence their decision making.
The campaign, launched in August 2019, features eight videos designed to encourage riders to use the roads in a manner that gives them the best chance of staying safe and avoid being involved in a collision.
'Angry Al' acts as the 'devil on your shoulder', using strong language to encourage bad behaviours.
Week three (26 March) features a presentation from John Furniss, young rider and driver officer from the South Yorkshire Safer Roads Partnership/South Yorkshire Fire & Rescue.
With Covid-19 curtailing many of the usual 'engagement' routes with young riders, the South Yorkshire Safer Roads Partnership decided to embrace modern technology and venture into the world of YouTube.
For the last 10 months, they have been working with a local vlogger, Mech'It Better, to produce a series of short basic maintenance videos specifically aimed at new young riders.
This presentation discusses the 'ups and downs' of the ongoing project.
For more information about the PTW Riders online event contact either Edward Seaman (agenda & speakers etc) or Nick Rawlings (sponsorship) – by email or on 01379 650112.
Alternatively, click here to receive regular email alerts in the run up to and during the event.
---