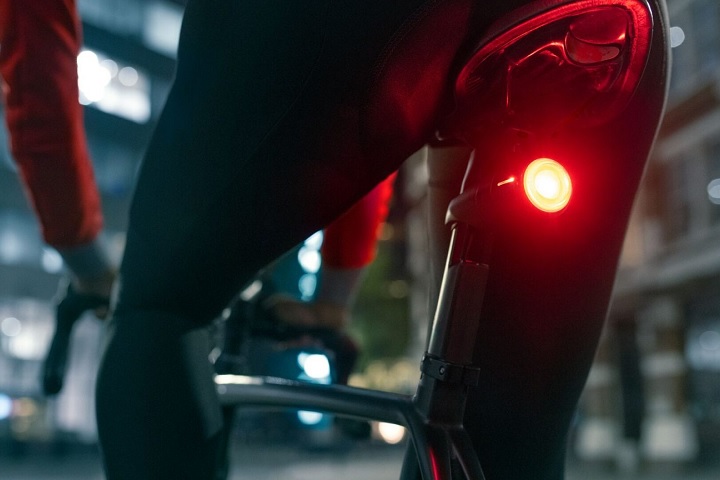 Vodafone UK has launched a 'pioneering' new product it describes as an 'all-in-one bike safety solution' that keeps riders 'safe, visible and connected'.
Among the features of the Curve Bike light & GPS tracker is an intelligent rear brake light that responds dynamically to speed – automatically brightening when braking.
It also includes a 'Security Mode' that activates when the bike starts moving. This will then send location alerts straight to the user's smartphone and enable their live location to be tracked.
This works alongside 'Impact Detection' which notifies a rider's trusted contacts if a fall is detected, sending either a push notification, SMS or an automated call to let them know where the rider is.
Vodafone UK says the product provides 'an ideal solution' for both new and experienced cyclists looking for greater peace of mind on the road and also when storing their bike.
It points to its own internal research which suggests poor visibility and dark conditions on the roads (53%), fear of being hit from behind (44%), poor bike security (26%) and being in an accident unnoticed by others (26%) are among the top concerns of riders in the UK.
Max Taylor, consumer director at Vodafone UK, said: "Curve Bike light & GPS tracker is the latest addition to our exciting range of smart tech products. 
"The tracker, which was co-created with cyclists, helps to provide a safer commuting experience and is designed to provide reassurance to both the cyclist and their loved ones – something that people crave to ensure their journey is enjoyable and as worry-free as possible."
Unsurprisingly, the product is not free – and is available to purchase for £79 (plus a £3 monthly connectivity subscription fee).
---