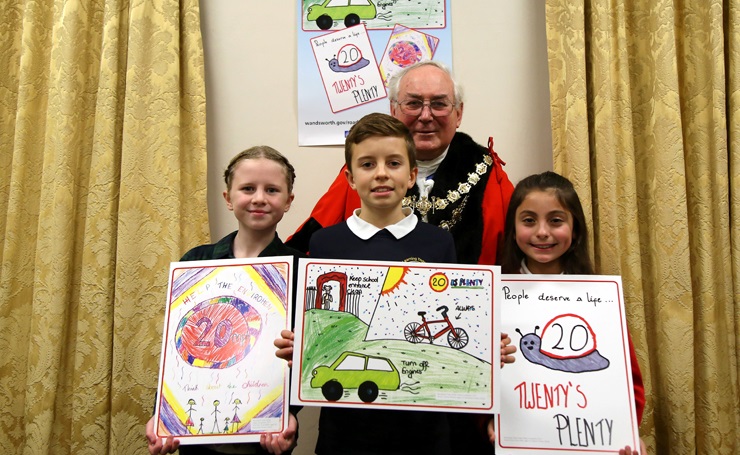 The winner of a school poster competition, which ran in the London Borough of Wandsworth as part of Road Safety Week 2017, will see his artwork displayed around the borough from March 2018.
Organised by Brake, Road Safety Week 2017 (20-26 Nov) set out to inspire schools, organisations and communities to take action and promote road safety messages during the week itself and beyond.
Wandsworth Council's road safety team invited schools to take part in the poster competition, in a bid to remind the borough's motorists to keep within the speed limit – and to drive and park carefully around schools.
The winning poster was designed by Connor Phoenix from Smallwood Primary School, with Emma Peón from Hotham Primary School named runner-up, and Emily Walker from Ravenstone Primary School finishing in third place.
The winners received their prize at a special ceremony held in the Mayor's Parlour (pictured).
Cllr Jonathan Cook, Wandsworth Council's transport spokesman, said: "Congratulations to Connor, Emma and Emily for their brilliant posters. Reducing speeds is vital to keep our roads safer, especially for children travelling to and from school.
"Since we introduced the borough-wide (20mph) speed limit earlier this year we've been keen to remind motorists that speeding will not be tolerated, and Connor's poster will help get the message out."
Elsewhere in Wandsworth during Road Safety Week, approximately 260 pupils from years 5 and 6 took part in a Junior Community RoadWatch event, catching 64 speeding motorists.
Junior Community RoadWatch, which was launched during Road Safety Week 2016, gives primary-aged pupils the chance to use 'speed guns' alongside their local police in order to reduce speeding around schools.
---