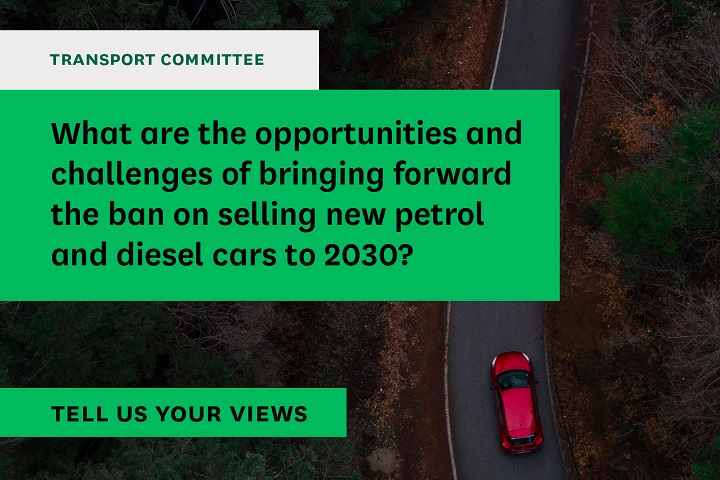 The Transport Committee has launched a new inquiry to consider the implications of accelerating the shift towards zero emission vehicles.
In November 2020, the Government committed to end the sale of new petrol and diesel cars and vans by 2030.
Up to £1bn has been committed by the Government to support the transition to electric vehicles, with a further £1.3bn pledged to accelerate the roll out of charging infrastructure.
The Transport Committee inquiry will look at the 'feasibility, opportunities, and challenges' presented by the ban of the sale of new petrol and diesel vehicles – as well as the actions required to encourage greater uptake of electric vehicles.
With the £40bn annual income from Fuel Duty and Vehicle Excise Duty likely to 'decline sharply', the inquiry will also look at the case for using innovative new technology to introduce some form of road pricing.
It will examine which particular road pricing or pay-as-you-drive schemes would be most appropriate for the UK context and the practicalities of implementing such schemes.
Huw Merriman MP, chair of the Transport Committee, said: "The Government decision to bring forward the ban on the sale of new petrol, hybrid and diesel cars is considered a vital step along the UK's path to net zero. 
"This inquiry will help us get into the details and practicalities of the policy and the financial implications.
"A consequence of the transition to electric vehicles is a potential £40 billion annual fiscal black hole, due to the reduction in Fuel Duty and Vehicle Excise Duty. Something will have to change. 
"We will be exploring whether radical road pricing or 'pay-as-you-drive' schemes can offer a revenue-raising solution to this problem. We will explore the practicalities of different schemes, the level of public support for them, and best practice from other countries."
The Transport Committee invites written evidence by 17 February.
It previously announced plans to look at road pricing before the 2019 General Election.
---